Herald on Sunday Rating: 3.5/5
Address: 120 Quay St, Britomart
Phone: (09) 300 5279
Website: tylerstreetgarage.co.nz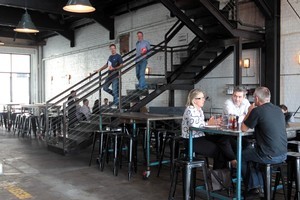 I think it is safe to say that I do not run a great risk of being labelled cool. Even back in the days when I had plenty of hair and was younger than my car, I managed to avoid the description entirely. It may have been the needlecord trousers, the Austin A30 or the enduring love of test cricket. I'll never know.
I mention this by way of signalling that the Tyler St Garage was not designed with me in mind. Because Tyler St Garage is very cool indeed. And people who are cool will doubtless smile indulgently when I say that it is almost apocalyptically noisy.
A combination of a throbbing soundtrack, the clamour of happy patrons and all those concrete surfaces make it a little like standing beneath a 747 taking off.
Now, I am not entirely averse to noise. I was there when Led Zeppelin played Western Springs in 1972 (my ears stopped ringing in 1975), and even these days when I have had more to drink than the Professor would like, I'm known to dig out my copy of Dixie Chicken and annoy the neighbours.
But Tyler St achieves an almost surrealistic noise level, which forces you to communicate by a combination of bellowing and lip-reading. The clientele seem to have mastered it, but we were in a group of three and only the one in the middle could hear what the other two were saying.
"Would you like the food menu?" a young waitress hollered as we sat down. The addition of the word "food" was suggestive. This place styles itself as an "eating house and bar", but in practice it's the other way round, I suspect: the drinks list - including intriguing cocktails (Elderflower Collins; Pink Goose) - is about twice as long as the food one.
But we were happy to settle for water - it comes in a funky, chipped enamel jug, as does the beer, I gather - as we made some food choices.
In a menu divided into small plates, pizzas and "gourmet hotdogs" this was relatively easy; quite a lot appealed, so we ordered widely.
The service was prompt but it was slightly annoying to have everything arrive at once rather than sensibly spaced out: these shared small plates are becoming default servings at restaurants now and not enough places think to divide a group's selection into three manageable and thoughtfully matched "courses".
Tyler St is one of three places newly opened, side-by-side and in quick succession, in the Britomart precinct; the other two are Ebisu (contemporary Japanese) and Precinct Cafe, whose mission statement includes offering "the best paper-bag lunch in town". They're the brainchild of Brendan Turner, former owner-operator of Dizengoff and Sheinkin, establishments whose chopped liver makes me go weak at the knees.
Turner is reported as saying that Tyler St's agenda was "a simple style of food but just done really well", which, for the most part, is what it's achieving. I reckon the $15 hot dogs are a bit of a have - my one was meant to contain "smoked South Island wild boar", but it tasted pretty ordinary and the accompanying fries, though attractively presented, were pallid and not very crisp.
But we all raved about the smoked salmon, minced like Sheinkin's chicken salad and served with a tangy "hummus" of broad beans.
The lamb ribs were tasty, if a bit greasy, but compensated for by a terrific salad of goats' cheese, beetroot and asparagus, and the rather pricey pizza was much better than standard, without being deeply impressive.
I would have been tempted by the "icey slicey" for dessert , particularly if it had been given its New Zealand name, Eskimo Pie, but the noise had become too much. Anyway, we had to get back to the car since the new council has lifted its charges from an $8 flat-rate to $8 an hour in the adjacent parking area.
It was something of an irony to be suffering from parking anxiety in a place that used to be a parking garage, but that's life in Britomart, it seems. If they are trying to get people to flock in from the suburbs, they need to rethink that particular piece of extortion.
Ambience: Fortissimo
Vegetarians: Choices
Watch out for: Parking charges
Bottom line: Very cool, very loud
THE BILL
$139.50 for three
Salmon: $16
Beetroot salad: $16
Tuna tataki: $16.50
Lamb ribs: $16
Hot dog: $15
Pizza: $27.50
Wine (three glasses): $32.50