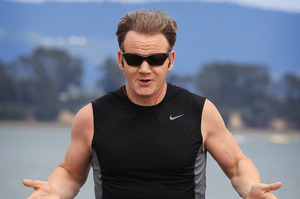 He arrived in town with an expensive court case pending, but celebrity chef Gordon Ramsay left Auckland on Wednesday night full of praise and with a suitcase crammed with local cookbooks.
The man known for his stinging criticism and liberal use of profanity had high praise for boutique hotel Mollies and three Auckland eateries - even suggesting they were of Michelin-star standard.
The British TV chef, who has been awarded 11 Michelin stars, took to Twitter: "Bye Bye Auckland. Thx [sic] you all for making me feel at home. Food bloody amazing [at] Depot, Euro, Ebisu, Michelin hurry up!! Mollies, well I love you."
Local television chef Al Brown, creator of Depot on Federal St, said an endorsement from Ramsay was "absolutely huge".
"It was an honour to have someone like him at our place and we treated him like a regular diner."
Like Brown, Ramsay is to open his own rustic eatery, The Fat Cow, in Los Angeles in a couple of months.
While the accolades were forthcoming for Brown, Ramsay stayed quiet on Kiwi MasterChef judge Josh Emett, who operated two of his Australian restaurants. The pair reportedly parted acrimoniously.
Emett is putting the fallout behind him and is preparing to open his first restaurant in Queenstown and another in London. He will also be the celebrity chef at the $225-a-head dinners during the NZ PGA Pro-Am golf tournament at Michael Hills' golf course restaurant near Arrowtown on March 29 and 30.
Ramsay's failure to appear at two sold-out charity dinners in Auckland for chronically ill school girl Matisse Reid was the primary reason for his visit this week.
The 45-year-old settled a lawsuit with Duco Events, which was seeking $2.1 million in damages for his no-show.
The company said in a statement: "The parties have reached a mutually-agreeable financial settlement, including a donation of $100,000 to Matisse Reid and the trust Chance2Eat."
Britain's Daily Mail newspaper revealed the mutually-agreed figure was £41,700 ($80,400).
"Duco Events tried to sue him for £1 million ... but they settled this week for £41,700," the paper said.
"The $100,000 (£51,500) payment [donation to Reid and the charity] is reportedly the same as Ramsay's appearance fee for the charity events."
But Duco lawyer Damian Chesterman told The Diary the £41,700 figure was wrong.
He said all parties had signed confidentiality agreements. "I can't say what the figure is, but what has been reported is wrong."
Chesterman said the mediation took 17 hours, "a record for me". At the end, Chesterman and David Higgins from Duco shared a couple of glasses of New Zealand chardonnay with Ramsay in their offices.
"He had some great war stories to tell," Higgins said, "like almost getting into fisticuffs with Marco Pierre White, and turfing out food critic A.A. Gill and Joan Collins from his restaurant when he was just 32."
Chesterman told The Diary: "It speaks volumes that, after a long 18-month acrimonious dispute, there were no hard feelings and both parties [Higgins and Ramsay] have agreed to work together in the future. They have a mutual interest in raising money for charity."
Higgins said he was committed to collaborating with Ramsay next year. "No details have been locked in yet, but it will be event related."
On Ramsay, Higgins said: "After having a couple of drinks with him, I found him to be engaging and charismatic, and on an event front, he will be one of the most impressive speakers we will have heard."
POLITICIAN SEES RED AT ELLERSLIE RACES
Heads turned at Ellerslie Racecourse on Auckland Cup Day when local councillor Cameron Brewer turned up with his new girlfriend, Kate Barry.
Colour co-ordinated, Barry and Brewer were nominated as finalists in the Stella Artois couture couple competition. They missed out on the top prize but were snapped by New Zealand's Next Top Model photographer Chris Sisarich.
The new relationship seems to be doing wonders for the separated father-of-one, who turned 39 yesterday. Insiders say Brewer has kicked off this year fitter and happier, with his sense of humour and tendency to mimic his councillor colleagues back in full flight.
Labour-leaning Mayor Len Brown, who also made an appearance at the racetrack, would no doubt have been pleased with the Tory councillor's sartorial choice of red.
Also at Ellerslie were Victoria Carter, April Ieremia and new Warriors co-owner Owen Glenn. Boh Runga was at the Gucci private suite accessorised by a fine feathery fascinator. Colin Mathura-Jeffree chose jodhpurs and boots, and Sally Ridge toted her teenage daughter Jaime. Aja Rock, Brooke Howard-Smith and Amber Peebles made appearances too.
MUTTON BIRDS SINGER JOINS ALUMNI
Recipients of the 2012 Distinguished Alumni Awards will be honoured at a formal dinner tonight on the lawn of Old Government House at the University of Auckland. Celebrated songwriter Don McGlashan will join Professor Charles Alcock, Dame Robin White, Dr Mark Sagar and Emeritus Professor Ranginui Walker as beneficiaries of this year's awards.
Alcock is the director of the Harvard-Smithsonian Centre for Astrophysics; Sagar is a winner of two consecutive Academy Awards and the head of Weta Digital special projects; White is a painter and print-maker and Walker is a prominent writer and academic.
McGlashan graduated in 1982 with a bachelor of arts degree after five years studying subjects as diverse as Chinese politics and French horn.
"I wasn't a blindingly successful student. I got As in things I was really fascinated by and Cs in things I wasn't interested in," McGlashan told a local paper.