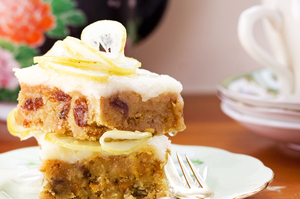 Makes 12
1 20 x 30cm slice tin
1/2 cup sultanas
1/4 cup apple juice
200g plain biscuits eg vanilla wine, milk arrowroot - crushed
200g condensed milk
1 cup desiccated coconut
4 lemons - 2 sliced finely, 2 zested and the juice reserved
70g butter melted, plus an extra 20g for the icing
1 cup sifted icing sugar
2 Tbs caster sugar
1/4 cup water
1 Prepare the slice pan according to today's tip.
2 Simmer the sultanas with the apple juice for 15 minutes then let cool.
3 Add the crushed biscuits to the condensed milk, coconut, lemon zest and melted butter. Stir to combine then press into the tin.
4 Combine the icing sugar with the reserved lemon juice and the extra 20 grams of melted butter until smooth. Spread thinly over the slice
5 Put the sugar and water into a saucepan. Bring to a boil then add the lemon slices. Reduce the heat and simmer until translucent. Cool then arrange on top of the slice before serving.