Indulgences to sweeten your day.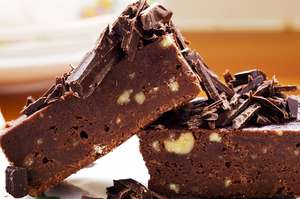 We all need a slice of something nice once in a while. I've come up with three options to enjoy with your morning or afternoon cuppa. A perfect small indulgence to boost the flagging blood sugar levels.
Though cakes and biscuits have their rightful place in the sweets repertoire, I adore slices because they are a bit of a crossover of the two - a little biscuity but can then be cut to whatever size you like, a petite mouthful or a hefty slab depending on your needs.
First up is a scrumptious brownie recipe. We have people coming into our cafe constantly asking for gluten-free cakes or slices, so I figured I could come up with a recipe that would suit all.
A good brownie depends on the quality of the chocolate. Buy cocoa with the highest level of cocoa solids you can afford - anywhere between 45 and 70 per cent. I have used rice flour instead of wheat but the result is similar. Use a skewer to check when it's cooked.
I've included a lemon, sultana and coconut fridge slice - so called because no cooking is needed. The slice becomes firm in the fridge and is then ready to serve. This one has sultanas which have been simmered in apple juice until lovely and plump before adding but you could use any dried fruit you fancy - apricots, cranberries, blueberries.
Baklava is a delicious mouthful of finely chopped nuts, crispy filo pastry and sticky orange blossom syrup. Take this to work as a treat to eat while sitting at your desk or enjoy at home, warmed gently then served with a little cream or yoghurt.
Chef's tip
All the recipes are for a standard 20 x 30cm slice tray. Either grease the tray with butter, use an oil spray, or line with baking paper. While 12 slices are recommended as a guideline, cut the slices to suit depending on appetites.
* Do you enjoy a sweet treat with your cuppa? What's your favourite slice?