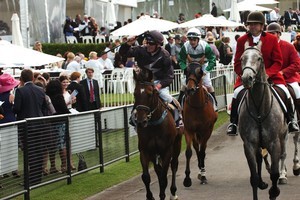 Auckland Cup Week starts today, a must-do event for horse fans and fashion lovers.
First out of the gate is Toki, a mild-mannered mixed breed, ridden by budding young rider Imogen G. Miss G may be only 7, but she's already one to watch given her command of the horses and obvious love for them.
Toki and Miss G are followed closely by Gorgeous - that's the name of the horse and the epithet that could also be applied to the rider who just happens to be Miss G's mother. Mum's riding for the first time in 15 years and has vague recollections of how to stay upright on your horse, so that's a promising start.
For me, it's a dream come true to be riding with my equally horse-mad little girl just as I always imagined I would. I'm smiling so much that I've all but forgotten how saddle sore I'm likely to be later. Talk about pulling muscles you never knew you had.
But who can blame me for being awestruck when we're trekking in such an amazing part of the country.
We're riding with Briars Forest & River Horse Treks in Paengaroa, 35 minutes east from Tauranga in the Bay of Plenty.
This trek, a two-hour adventure through approximately 3km of forest and river trails, is done at a leisurely pace along bridle paths which range from dead flat to gently sloping and up to steep, and take riders through native bush, past serene-looking lakes and brooks and along ridgelines offering expansive views.
Nearly two hours later and Miss G is exhausted. It's been a big and busy day for the young lady traveller and exhilarated as she is, she needs an early night. It's the longest she has ever ridden for and, she declares the next morning, as I hobble around the motel kitchen, that she can't wait to do it all again.
Given that school's back, it may be a while before we return but, in the meantime, there's another huge event on the equestrian calendar - a world away from Paengaroa - which may just enchant Miss G (and other) pint-sized equestrians, not to mention entire families, friends and even corporate groups looking to get together.
Auckland Cup Week gees up today with the TV3 Derby signalling the start of one of the biggest, most glamorous parties held in Auckland and the richest racing event in New Zealand.
Some 350 of the fittest and most beautiful thoroughbred horses in the country will compete during three days of racing for prizes totalling more than $5 million.
Betting on the gee-gees is synonymous with horse-racing. If you opt to bet, you can spend as little as you like and make it as simple as having a flutter on a horse because you like the name. Of course, the purists take it a whole lot more seriously and then there are officials around to talk you through the more complex, shall we say, ways to place a bet.
It doesn't take long before you're swept up in the action, cheering wildly for your horse to come in and then - if you're lucky - excitedly collecting your winnings. The sound of the horses' hooves and their physical exertion is quite something.
And then there are all the other things to look at - like the frocks.
Nowadays racing and fashion go together like feathers and fascinators. This Saturday is definitely the day to get along if you want glamour. In fact, the Nissan Prix de Fashion competition may be even more hotly contested than the races themselves - especially given that the prize package includes a Nissan Juke.
The Nissan Prix de Fashion is the premium Fashion in the Field event in New Zealand, featuring local and regional finalists from other competitions held at race meets around the country. Designer and raceday regular Lorraine Cookson knows a thing or two about enjoyment of participating in such events.
Lorraine was the winner of the Prix de Fashion on Derby Day 2007 and then went on to win Myers Melbourne Cup Fashions in the Field 2007. She took the overall top prize across the Tasman, which is considered the ultimate benchmark for raceday fashions. No other New Zealander has achieved this.
This Derby Day, Lorraine joins the judging panel. She has excellent credentials having also judged at the Melbourne Cup and previous Prix de Fashion finals. As a judge of raceday fashions, Lorraine is always delighted to see such individuality and variety of racewear.
"It's all about getting dressed up. If I could give any advice it would be for entrants to feel comfortable and confident in their chosen outfits and enjoy the day."
Another big drawcard will be home-grown globe-trotting singing sensation Kimbra who returns to New Zealand to play a one-off concert as part of the TV3 Carnival event and, yes, she'll be singing her smash hit Somebody that I Used to Know.
Kimbra features alongside other musical and TV stars making guest appearances at the TV3 Carnival which also includes games, giveaways and the chance to get yourself on TV with a live casting call taking place throughout the day.
There are many places to watch the races from - the Stella Artois Legere garden party, the Nissan Fashion Village itself, the Cuvee Champagne Bar & Lawn or the TV Carnival area.
You can simply grab your family, friends and a picnic lunch and spread yourself out on the public lawn areas.
Auckland Racing CEO Chris Weaver says the aim of Auckland Cup Week is to offer something to everyone regardless of their experience with horses and racing, or their budget. He says though Auckland Racing's Boxing and New Year meets were phenomenally successful, most of the club's business has been focused around the Christmas Carnival and he wants to expand the opportunities for Aucklanders - and their visitors - to enjoy the races and race-day atmosphere more often.
"Horse racing is a $1.56 billion industry in New Zealand responsible for 1.3 per cent of the country's GDP and employing at least 50,000 people from breeders and trainers through to vets and farriers but how many of us realise that?
"I think horse racing lost ground in the 1970s and 80s because it didn't keep pace with changing times - plus we're a generation or two removed now from how important horses used to be to society. Up until recently, people rode horses everywhere and they assisted with many daily tasks.
"We may no longer have those links, but above all the horse has a majesty and beauty that can only be admired by us all. Children are fascinated by them and I really believe that's because there is a respect and a love for them which is wired into our DNA."
Auckland Cup Week also includes the Stella Artois Auckland Cup Day on Wednesday March 7, and Diamond Day on Saturday March 10. Once again, there's races, fashion events and, for the kids, free bouncy castles and swing-ball games. Visit www.ellerslie.co.nz for more information about these events and all the ticketing and hospitality packages on offer.
A fashionable affair
So you're not convinced that fashion and racing are a winning combination?
Auckland Racing Club CEO Chris Weaver happened across these figures from Melbourne which show the fashion items purchased for the 2009 Spring Racing Carnival:
* 46,615 pairs of shoes
* 51,998 hats and fascinators
* 41,576 dresses
* 7788 suits
* 15,348 ties
* 13,973 handbags
* 12,141 jewellery items
10,995 pairs of sunglasses Official reports state that the Melbourne Cup Carnival provides a $350 million boost to the Victorian economy through domestic and international tourism, carnival events and shopping - including for the all-important race day outfits. Expand that out nationally and the Cup is thought to have a $700 million impact on the Australian economy.
Melbourne Cup day meetings are not limited to Flemington. Each year about 55 race meetings are held around Australia on Melbourne Cup day with more than 300,000 people attending, boosting local economies. One day, we hope, Auckland Cup Week will have the same impact here.
A race near you ...
Summer may be the best time for horsing around, but it's not too late to enjoy a premier race meet at one of the country's many racing clubs. As well as Auckland Cup Week, in March, April and May there are top flight races at (among others):
* Racing Tauranga, Saturday, March 24: Bayley International Race Day including the Japan Cup.
* Racing Te Aroha, Saturday, April 7: NZ Thoroughbred Breeders Stakes Day.
* Auckland Racing Club, Saturday, April 14
* Dargaville Racing Club, Friday, April 20
* Cambridge Jockey Club, Saturday, April 28: featuring the Group 2 Travis Stakes for Fillies and Mares WFA
* Racing Rotorua: Saturday, May 12: Platinum Homes NZ Rotorua Cup Day
These are just some of the highlights. Clubs, like Counties Racing Club in Pukekohe, often hold midweek race meets which are worth checking out.
To find more dates and locations, visit: www.attheraces.co.nz