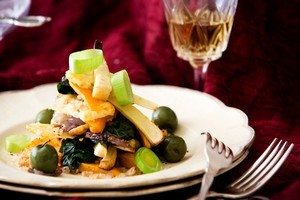 Serves 4
A selection of autumn vegetables - pumpkin, leeks, parsnips, brussels sprouts, beetroot, silverbeet, carrots
Olive oil
Salt and black pepper
150g parmesan
200g green olives
1/2 cup sourdough breadcrumbs
Dressing
2 tsp red wine vinegar
1 tsp lemon juice
tsp brown sugar
tsp salt
2 Tbs walnut oil
Black pepper
1 Preheat the oven to 180C. Slice the vegetables and spread on an oven tray.
2 Drizzle with olive oil and season. Bake until tender then remove.
3 Line a tray with baking paper. Grate the parmesan and arrange in rounds then bake for approximately 10 minutes or until they are golden. They will become crisp once cooled.
4 Halve the olives and remove stones.
5 Heat a frypan and add 1 Tbs olive oil then when hot, add the crumbs and lightly toast.
6 To make the dressing; whisk all the ingredients together and taste for seasoning.
7 To serve - arrange the vegetables on each plate with the parmesan crisps and the breadcrumbs, then spoon over the dressing.