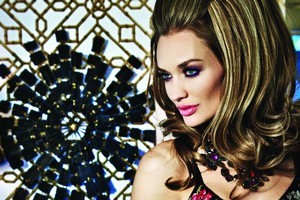 Who's who at this year's festival of fashion? Some of New Zealand's top designers and well-loved labels will present their autumn/winter collections at the New Zealand Fashion Festival, with nightly runway shows showcasing the latest trends and what's available in store. What to expect on the runway? We find out the details of each designer, and a little about their approach to the season.
ZAMBESI
Designers Elisabeth Findlay and Dayne Johnston
For winter we were thinking about zips, domes, technical fabrics and the use of neon. For women, context is the key - an unexpected use of sweat-shirting in a tailored, double-breasted, structured jacket with racing stripes. The silhouette is long and lean - a conversation between couture and sportswear. For men, classic suiting proportions are altered - a high-cropped, one-button jacket teamed with a sharp, narrow trouser. The utilitarian oversized parka is given sporting attributes with a technical fluorescent lining and a removable fur hood.
The prints are never the focal point of the collection but are always present. The digitized animal fur print is offered in two new colours for the season, coolcat and wildcat.
Top winter style tip?
Warm up your winter with some neon.
Favourite stylish places?
We are opening a new store in Tyler St, Britomart, enjoying the atmosphere and development of this really cool area. The new store will be opening very soon and will be showcasing Zambesi collections for men and women. We will also be stocking international brands Gareth Pugh, Rick Owens, Maison Martin Margiela, Nom*D, Raf Simons, Acne, Complex Geometries, L.D.Tuttle, N.D.C. Serge Thorval and William Griffiths.
* Shop online or ph (09) 377 2220
STOLEN GIRLFRIENDS CLUB
Creative director Marc Moore
For winter we were inspired by skeletons. Our key piece is the skeletal lace maxi - a sheer mesh maxi dress that has a true-to-scale human skeleton embroidered on front and back. It's a little bit Halloween, and a little bit high fashion. We have two of our own exclusive prints this season. The "day of the dead" print features dead babushka dolls, heart-shaped rib cages, and multicoloured skull kaleidoscopes. It almost resembles a paisley design from a distance. This was done by our amazing in-house artist Carina Kohler. The other print is completely different in style; the "nervous man" print which is a whole bunch of indian ink doodles. It's super loose and monochromatic - the complete opposite to the "day of the dead". This print was created by our good surfing buddy, Nanda Ormond.
Favourite piece?
Has to be the skeletal lace maxi. I cannot wait to see girls wearing this - and how they wear it. Obviously I am a guy, so first thought is girls wearing this with nothing underneath (not going to happen. But I can wish, right?). I'll be interested to see how girls layer this and work it in with their existing wardrobes.
Top winter style tip?
I'm not so into that over-the-top crazy layered "look at me, I'm in fashion look". Less is more. Keep textures and colours muted and have one or two features to your outfit that pop - let them be the focal pieces. Remember, your outfit is the frame and you are the piece of art. It's all about you, you sexy, lovely human being.
I love fashion because ...
It's a way to express ourselves and to inject some excitement into our sometimes mundane lives.
* Stockists email relax@stolengirlfriendsclub.com
HAILWOOD
Designer Adrian Hailwood
For winter I decided to do an elegant range mainly in black and white, with a hint of Spanish western flavour. The textured dress was the key element with a structured jacket in wool capes, satin dinner jackets and denim mini trenchcoats.
Favourite piece?
The fringed matador dress; it draped beautifully and evoked a sense of languid movement. It was a nightmare to sew though...
Top winter style tip?
Layering is a no go, and a good quality pair of shoes never goes a miss.
Favourite stylish places?
Everything in Days Bay, Eastbourne. The cafes, galleries and the beach.
Anything else that you would like to add?
A smile goes a long way. Be nice.
* ph (09) 360 9931
JIMMY D
Designer James Dobson
For winter I was thinking about sheer silk falling on spikes, a futuristic clan of warrior witches and the work of Auckland artist Andrew McLeod. The key feature of the collection is definitely our print - I spied one of Andrew McLeod's digital collages from the Silk Road Series at his exhibition at Ivan Anthony early last year and fell in love with it. It was densely layered with black and white images of Japanese Woodcuts, classical sculpture, Chinoiserie and occult icongraphy, all contrasted with bursts of colour in the form of flowers, laser beams and electrical circuitry. He was gracious enough to create a yardage print for us out of this artwork which we had digitally printed on to silk. He also took elements of the Silk Road work and translated them into placement prints for the fronts and sleeves of garments.
Favourite piece?
For women, any of the aforementioned printed pieces, and I love our voluminous pirate shirt-esque Invoke shirts and asymmetrically draped Banshee dresses. For me personally, I can't wait to wear our Crucible shorts with an attached skirt layer, and I've already stolen the Cursed Tee sample - it has an Andrew McLeod print on the front and a long, draped back. I live in it.
I love fashion because ...
Every season starts with a blank page, it's impossible to get bored in our industry. It's also pretty awesome to see people on the street wearing something that was only a sketch on paper six months ago.
Favourite stylish places?
Coco's Cantina and Sunday Painters are consistently amazing - great food and a warm and unpretentious atmosphere that I love. On a recent trip to Wellington, Ancestral bar became a new favourite too.
* Shop online. Stockists ph (09) 379 8930 or email info@jimmyd.co.nz
BARKERS
Merchandise manager for Barkers men's clothing, Paul Biddle
For winter we were thinking about Twin Peaks. We watched it again recently and were struck by the way those strange, elliptical characters are dressed impeccably, and entirely out of sync with most early 90s touchstones. Fair Isle knitwear, immaculately cut suits, tweed, herringbone and other key heritage fabrics are omnipresent - every entrance is notable, every outfit a winner. Our key fabric for the season is undoubtedly Super 120s merino. We have completely re-shaped our suiting block over the past year, introducing a range of slim cuts and some more adventurous colours like "sharkstooth" navy. But the soul of any suit is the fabric - they're made from very fine, high-quality merino which is both warm and very breathable. The prints in the collection are floral, but not in a bold 70s style. Instead they're fine 50s-inspired micro-prints which work better with a cardigan and tie than at a barbecue.
Favourite piece?
The Harbourmaster parka. It's a great example of what we try to do at Barkers - take classic staple garments and update them for contemporary life. So there are wood-and-twine toggles, check lining and a slim torso paired with water-resistant panels over the shoulders and a solid lining for warmth.
Top winter style tip?
Wear a tie as often as you can. It's so simple, but is increasingly overlooked. They elevate any outfit, can add personality without being overbearing - the right tie shows you're paying attention.
* Ph (09) 304 1470
MISTER
Designers Mickey Lin and Ra Thompson
Our winter range was largely inspired by the gothic fairy tales of the Grimm Brothers, in particular Hansel & Gretel. One of the key features in the range, and all Mister collections, is our use of fun, exciting and bold fabrics along with immaculate tailoring and style. To tie in with the "lost in the forest" theme of Hansel & Gretel and the autumn season, we designed a classic repeating leaf pattern for our knitwear. We were then lucky enough to find a cotton shirting with a very similar print, which we also used.
Top winter style tip?
Just because it's winter it doesn't mean you have to dress dull and dark, add a bit of colour to your winter wardrobe. We love colour and our must-have merino items are the perfect combination of winter warmth and bright colour.
We love fashion because ...
Like it or not, clothing makes us who we are and you can pick a person's personality from what they're wearing, which is all the more reason to stand out from the crowd and dress boldly.
* Stockists: Marvel, ph (09) 376 4204, Made, ph (09) 366 1693, Starfish ph (09) 523 2659.
PLEASURE STATE
Bendon Group communications manager Rachael Louise Parkin
For Pleasure State's autumn/winter 2012 collection the pieces were designed to showcase the art of embellishment, infusing decorative and exquisite elements. Attention to detailing and exquisite fabrics used in the lingerie are always paramount and this season the combinations are exceptional. The focus is on floral themes, entwined with unique adornments reminiscent of the rich culture of India. Bursting with elaborative design and colour, Pleasure State lingerie is designed to be seen. Many of Pleasure State's prints are exclusive - it's a true fashion lingerie label with four brands, Pleasure State Couture (high-end fashion pieces), Pleasure State White Label (everyday fashion choices), Pleasure State VIP (starting at a D-cup in stunning fashion-forward options) and Pleasure State My Fit (the ultimate push-up and multiway bra options).
Top winter style tip?
Be professionally fitted into your lingerie. It's essential, there is no reason to purchase an ill-fitting bra. It's the foundation of your outfit and will alter how your new winter season dress fits on your body and looks.
On top of that, wearing the wrong size can be uncomfortable, cause back and neck pain and, even worse, damage the delicate breast tissue. Bendon has perfected a free quick as easy bra-fitting technique that can take less than five minutes and you can stay fully dressed.
* Stockists ph 0800 BENDON
LIAM
Designer Emily Miller-Sharma
Liam looks to the symbolism of daily rituals for winter, thinking about the idea of modern-day ceremonial dress, what we dress for every day, what we put on when we get up, and the rituals we dress for. We have developed a lace that features fruit that reflect the symbolism throughout the collection - joy (orange), innocence (orange blossom), peace (olive branch), welcome (pineapple) and immortality (pear). An acorn appears, almost hidden, on every piece - a reference to the tradition of placing the nut on a windowsill for protection from lightning.
Favourite piece?
The cobalt blue "Decided" suit. The blue is such an amazing example of a colour and it suits the simplicity of the cut of the suit. I also really love the "Piqued" blazer and "Decided" pant suit, worn with the "Flourishing" blouse. The look is a contemporary black-tie alternative to the traditional dress.
Favourite stylish places?
The Golden Dawn bar in the afternoon or early evening. So many delicious options. And Mexican Specialities in Ellerslie.
* Ph (09) 522 6658
* Herald Online Life & Style Editor Nicky Park will be blogging from the New Zealand Fashion Festival. Follow her on Twitter. We'll also have plenty of video coverage so stay tuned.
The New Zealand Herald and Viva are sponsors of NZ Fashion Festival 2012.