The bonding and skills gained from school camps can be an indelible part of growing up, writes Gill South.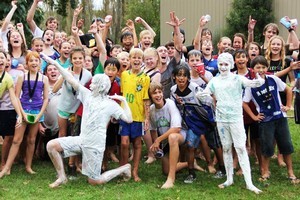 We all love our children to bits, particularly when they are asleep and even more when they are off at school camp. They trot off with their heavy backpacks, exploding with favourite pillows, packets of biscuits, towels and warm jumpers, looking like Hogwarts School pupils.
These first-term school camps are a little slice of heaven, a time for our children to strike out on their own and bond with their new classmates, get to know the fun side of their teachers and try out some different activities. And Auckland schools are lucky, the region has a fantastic range of camps catering for schools, set up to give children some new challenges.
Sadly, not all schools are doing camps anymore - for some, the health and safety concerns, the necessary parental involvement and the cost, have made it prohibitive.
A full-week school camp can cost well over $200, which, if you have more than one child, is a big ask.
One North Shore school principal says it just got too hard to find the parents to give up a whole week of work and also the costs were going up."It involved a significant commitment from staff," he adds. Instead, the school organises one day trips to places like Woodhill or to a marae.
"It's all still Education Outside the Classroom - EOTC," he says.
Others do school camps on quite a large scale. St Cuthberts sends its pupils to a number of camps and has just sent its first group of year 10s away for four weeks to its bush camp near Ohope, Kahunui, a real rite of passage the year 10 girls take every year.
According to St Cuthberts principal, Lynda Reid, the school sees the year 10 four-week camp as an experience for resilience, personal and social development. Kahunui is a tech-free experience.
"There is no Facebook, no cell phones, no iPod. They actually really enjoy it," says Reid. Mail call is cause for excitement. "They learn how wonderful it is to get and send letters," she says. In a 2010 school survey, the girls and parents rated the camp at Kahunui as the best of all their school experiences, she says.
Whatever the length and scope of your children's school camp, according to senior educator and school camp veteran, Sheree Campbell, these trips are "a chance for kids to challenge themselves in a safe environment in a way that is very supported."
"It's not just a fun thing, it's a learning experience," she says.
"It could be as small as eating food that they would not normally eat," she says. And themes from school camp should continue back in the classroom, adds Campbell.
Iain Taylor, principal of Manurewa Intermediate, is a champion of the school camp.
"I would walk over coals to make these camps happen. Outdoor education is a perfect way of creating momentous moments and memories for kids," he adds.
Camp is a real life example of having an integrated learning experience, says Taylor. There are so many schools narrowing down the curriculum, camp is a way extend it. The Manurewa children learn values of teamwork, respect and tolerance.There's an element of competition too which is "bloody important", says Taylor.
Manurewa Intermediate's camp is to be held at Motutapu Island, near Rangitoto this term.
The theme is survival and the facilities are basic. There are no showers and the school is taking portaloos and barbecues. The activities will include a gruelling seven-hour hike from the island over the causeway, up to the top of the island. The children will also be asked to jump off a 12m-high wharf, in supervised conditions.
"It's a perfect example of a moment they will remember for the rest of their lives," says Taylor.
The school organises some fundraising for camp. "We have a car boot sale coming up and that helps raise money for food for the camp." The kids shop for the food and have to figure out, if they need lots of energy, whether chips and lollies are the best idea.
Gladstone Primary had its year five and six camp at Carey Park in Henderson Valley Rd this February. Activities included rock wall climbing, flying fox, kayaking and archery. Gladstone Primary associate principal Jodene de Andrad says holding the camps early in the year works well. "It's a good way for the classes to bond, the children get to know each other."
At Gladstone, the children build up to a week's camp. In year three they spend the night in the school hall, in year four they go to a marae for a couple of nights, then in years five and six, go to a camp such as Carey Park.
Carey Park's director, Boyd Clark says the Henderson Valley camp caters for each school individually. There may be specific themes the school wants to look at, the environment or bush study.
"Two things differentiate one camp from another: the food and service; and the interaction between staff and the guest groups," he says.
School children have been going to popular school camp venue, YMCA Camp Adair, for 100 years. It is the biggest and oldest outdoor education centre in New Zealand, set on more than 40ha, according to general manager Zach Johnston. The Hunua-based camp sleeps up to 384 in three different villages and is booked solid until the end of June.
Johnston confirms some schools are not wanting to commit to camps anymore.
"That's a terrible thing," he says.
"Because some schools were not willing to come to Camp Adair, we said we would do things off-camp," he says.
Marae in the Auckland region, like the well-known Orakei Marae, meanwhile, are extremely popular choices for school camps, interesting to the schools for their historical and cultural significance, also beloved by the children for their welcoming approach, their food and music.
The Te Hana Te Ao Marama Marae, near Wellsford is attracting a growing number of school groups from Auckland.
The children particularly enjoy interactive activities, learning traditional Maori weaving and carving, says Natalie Sutton, spokeswoman at the marae.
Whichever camp your child may attend, no doubt when they return everyone will be in high spirits for having had the experience.
Popular Auckland region school camps
* YMCA Camp Adair: 2487 Hunua Rd RD3, Papakura 2583, ph (09) 292 4886.
* Carey Park Christian Park: 397 Henderson Valley Rd, Henderson Valley, Waitakere 0612, ph (09) 837 0494.
* Orakei Marae: 59b Kitemoana St, Orakei, Tamaki Makaurau, Auckland 1745, ph (09) 521 4291
* Willow Park: 1 Hostel Access Rd, Eastern Beach 2012, ph (09) 534 9640
* Motutapu Island Administration Bay, Motutapu Island, Hauraki Gulf, ph (09) 849 5656.
* Sir Peter Blake Marine Education and Recreation Centre: Long Bay, 1045 Beach Rd, Long Bay, (09) 473 0714.
* Stedfast Camp, Piha: 397 Henderson Valley Rd, Henderson Valley, Waitakere 0612, ph (09) 837 0494.
* Te Hana Te Ao Marama Marae: 317 State Highway 1 Te Hana (near Wellsford), ph (09) 423 8701.
* Awataha Marae: 58 Akoranga Drive, Northcote, North Shore 0627, ph (09) 486 5467.
* Finlay Park: 117 Finlay Rd, RD2, Cambridge 3494, ph (07) 827 2847.