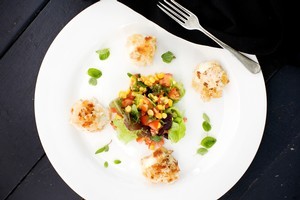 Serves 4
1 cup corn kernels, cooked, drained and chilled
1 small red onion, finely diced
1 tomato, finely diced
1/2 a small red capsicum, finely diced
1/2 tsp caster sugar
2 tsp olive oil, plus extra for frying
1 Tbs white balsamic or sherry vinegar
Salt and black pepper
1 1/2 cups home-made breadcrumbs
16 bocconcini
Salad leaves
1 To make the salsa, combine the corn, onion, tomato, capsicum and sugar.
2 Add the first measure of olive oil and the vinegar. Season, cover and refrigerate while preparing the bocconcini.
3 Season the breadcrumbs and spread on a plate. Roll the cheeses one at a time, pressing the crumbs.
4 Heat a frypan and add enough oil to lightly cover. Add the bocconcini and fry until just golden.
5 Serve hot with the salsa and salad leaves.