They're at the best now so it's time to get stuck into the season's sweetest sweetcorn.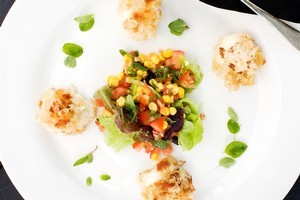 You really know it's summer when you're on a holiday road trip and you pass stalls selling fresh produce.
On our recent family holiday we couldn't resist stopping and stocking up - especially our all-time favourite, fresh sweetcorn.
I love how the green husks peel back to reveal its sunny, golden hue. The bins at the supermarkets are also oveflowing with corn as well at the moment; it's oh-so cheap and fun to eat straight from the cob.
Corn is at its very best now and so very sweet. Simple is best - boiled and served hot with butter, salt and pepper, or cooked in the husk on the barbecue - but there are also plenty of other options for this versatile vegetable.
Today I have made good old faithful sweetcorn fritters and have added steamed mussels and chopped chilli to the mix. It's a good brunch or lunch dish and tasty served with avocado and a squeeze of lemon or lime.
Next up is a quick and easy favourite of mine - a healthy brown rice salad deliciously flavoured with sesame, tuna and coriander.
This salad is perfect to take to the office for lunch and you will feel fabulously virtuous eating it.
The third recipe takes small balls of fresh mozzarella - bocconcini - which are crumbed, then gently fried in a little olive oil until the crumbs become golden; it's delicious and a little decadent. The corn salsa adds a piquant contrast to the richness of the cheese.
Chef's tip
Look for corn that has a green husk with no yellow and a silky and pale tassel. Sometimes the husk is peeled back to reveal the freshness of the kernels. Ripe, fat yellow kernels are what you want. Store in the fridge for three days maximum. If not grilling or steaming whole, you can cut off the kernels and freeze for later.
How do you like to cook your sweetcorn?