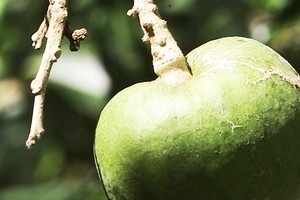 How to grow it:
Casimiroa edulis is one of those exotic subtropical trees which can withstand some frost.
A native of Mexico, it is known there as the white Sapote, and grows in higher altitudes, so is relatively hardy.
I have always wanted to try the fruit but have never grown it because of a lack of space.
A Casimiroa grown from a seedling will reach a height and spread of 20m and tolerates various soil types, but it is better to grow as a grafted tree.
According to Louis Glowinski, Australian tree crop and rare fruit expert, the Casimiroa fruit tastes like banana custard, and has paper-thin skin with creamy flesh.
The fruit require hand harvesting.
They rot very quickly once fallen from the tree, as I'm discovering with my cherimoya.
In the kitchen:
Casimiroa have a short shelf-life, but the flesh can be frozen.
Add the pulp to milkshakes, or purée the fruit into a low-fat icecream.
But it's best eaten fresh.