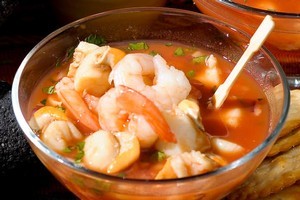 This was a new trick for me. We are familiar with using citrus juice to make Polynesian-style raw fish but I had never seen tomato juice used to cook seafood. Those clever Mexicans, or in this case, a Venezuelan.
Makes 4
12 New Zealand scallops
12 peeled shrimp
3 tbsp chopped fresh coriander leaves
cup finely chopped red onion
¼ cup fresh lime juice
¼ cup of tomato juice (the drinkable kind)
¼ cup of ketchup
1 squeezed orange
1 chopped avocado
1 tsp bottled hot sauce (such as Tabasco but this is optional)
1 teaspoon of finely chopped seeded Thai chillies (optional)
1 Bring a large pot of salted water to a boil. Add the scallops and poach gently until they are translucent, about 2 minutes, less depending on the size. (Always try one before getting all of them out of the water. Remember they are going to continue cooking in the lime juice). Save the poaching liquid but drain them well and chill. Repeat the same process with the shrimp using the saved poaching liquid.
2 Stir together the coriander, onion, lime juice, tomato juice, ketchup and orange juice until well blended (add a bit of the poaching liquid if necessary, just make sure it has cooled down before adding). Gently stir in the shrimp, scallops and avocado. Add salt and pepper as desired.
Note: I love spicy food but a lot of people don't. I recommend putting the Tabasco and chillies on the table for people to add.