Pre-prepared marinades and sauces add interest to simple summer holiday food.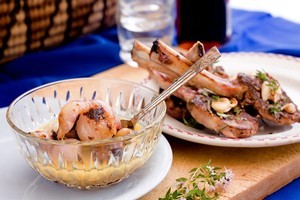 Yippee. Long days at the beach and the chance to relax around home are nearly here. After such a busy year I can't wait to get away from it all and not have to think too hard about food.
Fresh seafood, stonefruit and vegetables should just about do it, and it's a good idea to have a few pre-prepared marinades and sauces up your sleeve.
Make them now, pour into jars and put aside for your holiday. The flavours will only improve and will be a wonderful addition to barbecue food - especially if you are out of reach of a decent supply of quality ingredients.
Cider marinates juicy lamb cutlets beautifully and cranberry adds sweetness when it caramelises with the meat on the grill. I'm serving the lamb with roasted shallots, thyme and garlic, but red onions slowly cooked on the grill are also delicious.
A good potato salad is a summer classic - buy some jersey bennes or freshly dug spuds from a vegetable store, boil until tender then stir through the caper, red onion and gherkin mayo you have made beforehand.
It's simple and perfect with grilled fish or barbecued sausages.
The third recipe celebrates the gorgeous flavour of fresh raspberries. If you are not as fortunate as I to have a bountiful plant passed down from a treasured uncle which produces ruby gems year after year, I suggest you buy one and get it growing in the garden or in a large pot straight away. It's easy as can be and doesn't need much attention.
Simmer the berries with a little lemon, honey, a slice of ginger and a cinnamon stick to produce a tart sauce full of flavour which can be spooned over waffles, pikelets or toasted brioche in the morning or warmed and poured over vanilla icecream as the sun sets.
Merry Christmas and have a peaceful holiday enjoying the sea and plenty of good food.
Chef's tip
Pick a few herbs and take plenty of garlic with you on holiday - we often miss these fresh flavours when cooking in a remote location.