Crisp lettuces and flavoursome dressings taste like summer, says Grant Allen.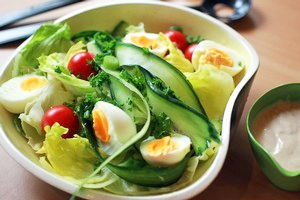 Summer welcomes to the table fresh, crisp, crunchy flavours and textures, and dishes that don't involve a lot of time in the kitchen. My favourite lettuces are the ones that don't wilt under their dressing and don't feel like limp paper in your mouth, think cos, romaine and iceberg.
I'm way over the supermarket mesclun mix. Mesclun in its original form is a toss of very juvenile leaves from a wide variety of baby lettuces and herbs, often wild, cut fresh just before using and each with an identifiable taste. It is not a bag of hydroponically-grown salad plants that turns into expensive compost a day after opening. To eat mesclun authentically go out foraging or grow your own.
Many other strong leaves can be used to carry a dressing and complement other components: watercress, rocket, witlof and the baby leaves of spinach, silverbeet and beetroot.
Here are a few ideas for the sunny season.
Go retro
The classic Kiwi salad consists of the only lettuce known in this country for many years, the iceberg. These days we would not shred it or cut the tomatoes into roses, but nostalgically it makes me think of summer lawns and picnics.
Break up the leaves into chunky pieces and arrange tomato slices (to modernise, use cherry tomatoes), hard-boiled eggs cut in half, cucumber slices (updated here by making cucumber ribbons) spring onions, snipped chives and curly parsley.
You must serve this with Highlander Condensed Milk Mayonnaise, the recipe is on the tin. You may be forgiven for not opening a can of sliced beetroot.
Perfect with ham and cold meats, especially corned beef.
Mesclun at home
Get a selection of seeds, including those with a sharper taste such as radichio, cress and sorrel, and go for a contrasting range of textures: crunchy, soft and silky. Combine the seeds in a bowl. Scatter them on to a small patch of garden and keep them damp. You can harvest as soon as the leaves reach 3-5cm by snipping them off with a pair of scissors.
Salad leaves
Fill your sink with cold water and allow the leaves to float, giving them a gentle swirl to dislodge any dirt and drown any bugs. Drain in a colander then tip on to a clean tea towel. If you have a salad spinner, give them a good spin, if not tip on to another dry tea towel and the leaves should drip-dry. Crisp up in the fridge.
* Grant Allen has been a professional cook for 30 years. He works as a caterer in Auckland. For more ideas visit Grant's Facebook page.