Summer fruits are at their best now and add a splash of flavour and colour to make-ahead Christmas desserts.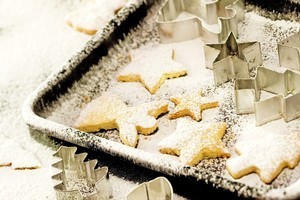 At this madly busy time of the year I thought it would be a good idea to come up with recipes for Christmas desserts that are relatively quick to make and, more importantly, have elements which can be made in advance. Shortbread and meringues can be stored in containers and brought out on the day to be whipped up into impressive festive desserts.
The highlights of these desserts are the stunning colours and flavours of the berries. Their reds and purples suit the traditional Christmas themes and they are at their best seasonally - the perfect fruit for the day.
A combination of heady spices are worked into the shortbread dough which smells wonderful when baking. You can buy delightful cutters in Christmas theme shapes to cut out the shortbread. (This is popular with children though you may need to allow more time if you have little helpers.) The spices and strawberries are delightful paired with the cinnamon buffalo yoghurt. If that is hard to find in your neck of the woods, a thick Greek-style yoghurt is good or you can use mascarpone.
Christmas is all about traditions and my favourite traditional Christmas dessert has to be trifle.
The best one I ever ate was late at night on Christmas Eve at a friend's house where her dad had poached stonefruit from their trees in dessert wine then made his own sponge.
He did buy the custard but, hey, that can be forgiven. I was already in heaven - it tasted amazing.
The trifle today is a straightforward affair using savoiardi biscuits, which are easy to find at most supermarkets. You can substitute sponge if you prefer.
I've paired gorgeous raspberries with a little rosewater which can be found at Asian and Indian food stores and many supermarkets, and I have given a recipe for custard but there are a few good options on the shelves if you are short of time.
Present the trifles in beautiful crystal glasses and you have a charming dessert.
Blackberries are luscious and tart. They look stunning and taste even better paired with little meringues bursting with the flavour of toasted hazelnuts. Splurge on a vanilla bean or two and scrape the sweet-scented seeds into softly whipped cream.
Chef's tip
Though it would be ideal to be able to pick berries straight from the bush, the alternative is finding a nearby grower or a good supplier. If buying punnets, turn them over and inspect the berries underneath to make sure they are not mouldy or squashed.