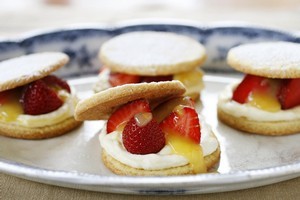 Could have fooled me
Roughly chop or blend strawberries and stir through stiffly whipped cream (or a thick Greek yoghurt if you must), splash in good vanilla syrup (Heilala) or a touch of orange liqueur. Serve in individual glasses with a thin almond biscuit.
Shortcakes
Make a sweet scone dough, cut into rounds and bake. Slice into three layers, fill each with cream and sliced strawberries. A touch of lemon curd is a tart contrast. Eat under a shady tree somewhere.
Slush or Lush
Whiz frozen strawberries in a blender for a cooling slushy (icecream makes it better). If you must, a slosh of rum and creme de fraise (strawberry liqueur) turns it into a daiquiri.