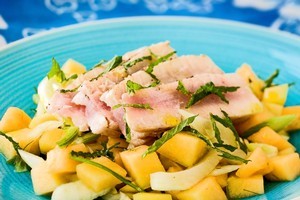 Serves 4
2 Tbs olive oil
4 x 150g tuna steaks
Salt and freshly ground black pepper
1 rockmelon
1 fennel bulb
Vinaigrette
1 Tbs white balsamic
1 tsp lemon juice
1/4 tsp caster sugar
1 tsp Dijon mustard
2 Tbs olive oil
1 Tbs fresh mint leave, sliced
1 Heat a pan and when hot, add the olive oil then the tuna. Season and cook for 2 minutes depending on the thickness of the steaks.
2 When well-seared, turn over and repeat. Remove, cover and leave to rest for 5 minutes while making the salad.
3 Halve the melon, remove the seeds, peel and dice.
4 Halve the fennel bulb, remove the core and discard then slice the bulb finely.
5 Whisk the dressing ingredients together and toss with the melon and fennel. Arrange on a platter and place the slices of tuna on top. Add extra mint if desired.
Chef's tip
When searing tuna, get the pan or grill as hot as possible. Cook for 2 minutes on each side - depending on the thickness - then cover and rest for at least 5 minutes before slicing.