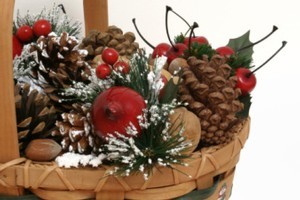 Tis the season for Chrisco hampers to start arriving at households throughout the country. People with the foresight to order ahead of time are now finally able to enjoy the groceries and Christmas treats for which they've been drip-feeding payments for months on end.
That's right. Some people voluntarily opt to make weekly payments to a company that doesn't pay them interest on the money and doesn't even supply the groceries at prices as competitive as those at the supermarket.
You have to question why anyone would patronise an organisation that doesn't seem to have a compelling or attractive offering. Some customers claim to find the convenience appealing. One testimonial on the Chrisco website says: "It is easier to shop with Chrisco. I don't have to run around before Christmas." Another reads: "From ordering, to the easy payments, with four kids, there wouldn't be Christmas without Chrisco."
That may have been true at one stage but supermarkets now offer online ordering and home delivery of groceries.
And, actually, I can't think of anything much less convenient than ordering groceries for next Christmas while still eating turkey and ham left over from the current one.
I shudder when I see the Chrisco television advertisements which usually run before we've even vacuumed the stray strands of tinsel from the floor. I hate to think that well-meaning people who want nothing more than to ensure a convivial festive season for their family are being tempted to part early with their hard-earned cash for little benefit.
Paying for goods before you receive them is always risky. What if the company concerned goes belly up while holding onto your payments? In that case, you'll have lost both your money and the promise of future groceries. Your cupboards will look like Old Mother Hubbard's come December.
But anyway that whole notion of convenience is just a red herring - a way of disguising the fact that Chrisco's core target market happens to include some of society's most cash-strapped citizens. Its home page leaves visitors in no doubt that saving and being frugal is the aim.
"Helping everyone save for a magical Christmas!" is the Chrisco by-line and the words "FREE" and "SUPER SAVINGS" shout out in capital letters.
Putting aside money each week is a way many families are able to afford a special Christmas. But if I was a budgeting advisor I'd recommend you keep it in your own bank account or else purchase supermarket vouchers that can be redeemed for groceries. That way, you can buy exactly what you need and want without signing up for a hamper containing a hodgepodge of goods - some of which you may not even use.
Chrisco hampers have not been assembled with foodies in mind. The "Ultimate Mega" ($27.32 a week for 47 weeks) contains (among other items) packaged gravy mixes, stuffing mix, cheese sauce mix and an array of "flavour bases" in sachets. "Chips Galore" ($1.53 per week for 47 weeks) offers 24 packets of chips while "Pacific Pantry" ($4.09 per week for 47 weeks) includes canned pineapple slices, 2-minute noodles, Raro, coconut cream and canned corn beef.
Whaleoil blogger Cameron Slater is no fan of companies that sell "over-priced hampers" and target vulnerable consumers. "Chrisco is for losers" he wrote in 2009, adding that the "poorest amongst us are being taken advantage of by the likes of Chrisco." Slater pointed out that Chrisco falsely stated that it kept customer deposits in an AAA-rated bank and he also asked why, if it's operating in the financial service sector, has it not issued a prospectus?
But what do Whaleoil and I know? We may have reservations about encouraging economically challenged families to pay elevated prices for future goods but there are evidently thousands of customers who have no such concerns. Merry Christmas to them.
- HERALD ONLINE