Before Santa Claus makes his grand entrance on Sunday, around 1000 little helpers will parade at the annual Farmers Santa Parade. Danielle Wright gets inside the costume room for a behind-the-scenes sneak peek.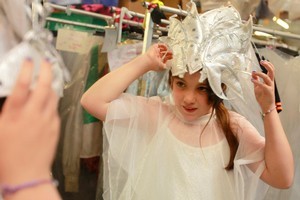 The costume room for the Santa Parade is the stuff dreams are made of - rows and rows of glittering gowns, fairytale frocks and pirate-ship heroes hang in neat bunches next to chuckling clowns and a table full of over-sized pavlovas and lamingtons.
Cheerful children, just out of a fitting, are racing in and out of the costumes in a giant game of hide and seek. It's clear the memories they are making will remain long after the parade has passed.
For 77 years, children have volunteered to be part of the day, which was originally led by several highly decorated carts pulled by happily adorned horses, accompanied by a pack of colourful characters such as Waggles and Goggles, Man and the Giant and The Big Fiddle.
Today, though the costumes and characters are different, the excitement remains. And, although you'd imagine a fair few pushy stage mothers at a dress rehearsal like this, the atmosphere seems less competitive than a simple drop-off at the school gates can be.
"The ones with overbearing mothers usually have their applications lost the next year," says Ronelle Thompson, the down-to-earth yet theatrical costume room manager.
I wonder if little "Beyonce", whose name I see tagged to a colourful red and white costume, will have a mother like that.
Certainly, the mothers I meet, Marie Harris and Anna Boyt, are relaxed about the occasion and taking it all in their stride.
Harris' son Frank is a clown and a bit of a veteran - it's his third year in the show.
This year he's brought a friend from Newton Central to join him, which is how a lot of the people in the parade come to sign up - being roped in by friends.
I ask him what advice he has for someone who is thinking about joining: "It's awesome; go on!!" he encourages with a big grin. "It's not scary after you've done it, you'll want to do it again right away."
He's even managed to rope his mum into parading this year. She's going to be a bad fairy who chases the clowns - let's hope Frank has eaten his Weetbix on the big morning or it may be him she's chasing.
Boyt's daughter Jezabelle is part of the Sleepyhead float. Her aunty works for the company and won a competition for Jezabelle to be the princess on top of all those mattresses - and one little pea - in the re-creation of a favourite children's story.
"She's excited, it's definitely up there with Christmas," says Boyt, who travels up from Pukekohe for fittings and rehearsals.
A couple of snow deers race past us, with a silver frost tree chasing them, giggling.
Their costumes are adorable and 60 of them together, including dancing icicles and plenty of silver and white balloons, will make Santa stand out in the crowd on his float this year.
Vernon James (14) is in charge of the balloons. He's been in the parade since he was 7 and, Ronelle remembers, "he didn't care what costume he was put in, as long as it had plenty of balloons."
It's not all about the kids though, there are older helpers as well and anyone over the age of 7 can join in. Warren Ng, has participated in the parade for the past eight years. He's mute. Instead of talking, he and Ronelle, who seems to take everything in her stride, write notes to each other on the day.
Apart from individuals wanting to be included, there are also dance schools - a belly dance school will be beside the genie float and the Dance Shed from Kumeu will be supplying buzzy bees and other dancers on the day.
It's not just the groups Ronelle tries to keep together, she works out a complicated mix of people so friends can also stay together because, "if the kids are feeling confident, they'll have nicer smiles".
She says families use the Santa Parade as a day to come together, with cousins sitting side by side on the floats. Some come from as far away as the Bay of Plenty.
Friendships are made and a few romances blossom for the older children.
And at the end, there's a lot of washing to be done! Three full weeks of washing and ironing to be exact.
After 16 years of working on the parade, what keeps Ronelle coming back?
"Seeing the shy ones beaming on the day, full of confidence in the parade. I feel so proud of them," she says, as a pirate pokes his head out from under a pile of costumes and smiles up at us.
Sign up
The Santa Parade, in association with the New Zealand Herald and sponsored by Farmers, is on this Sunday at 2pm with a rain date of Sunday December 4. To be a character in next year's parade, go to: santaparade.co.nz for an application form.