Getting into Diana Clement grabs the kids and heads out to inspect new playgrounds across Auckland, with some impressive results.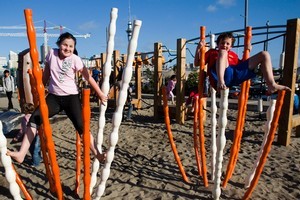 When you're knee-high to a grasshopper, finding a new playground is hugely exciting.
Last year, armed with a short-list from local councils, my children rated Auckland's top 10 playgrounds.
This spring we set out to try all of Auckland's newest playgrounds. The intention wasn't to rate these playgrounds, simply to try them out - although our testers, Maia and Milo Brown, aged 10 and 9, had one clear favourite.
Hobsonville Pt
Buckley Ave
We chanced upon this playground thanks to the fact we'd heard that Hobsonville Pt had a fabulous new cafe. Next door was the Hobsonville Pt playground and the experience of this "forest floor"-themed Honey-I-Shrunk-the-Kids-style playground was the catalyst for this article.
The playground has a mixture of classic play elements, such as slides and swings, and unique "experiential" creative play structures such as an abstract fort, giant fantail nests and scaled-up seedpods. There is plenty to keep the kids interested - especially if they're keen on imaginative play.
A real bonus for this playground is that it's right next door to the large and popular Catalina Cafe, built in an old aircraft hangar.
Schnapper Rock - Albany
Oakway Drive
The old North Shore District Council had a bit of a spend-up on playgrounds before it was disbanded. Schnapper Rock is arguably the best of quite a big bunch of new playgrounds. The playground is enticing and the children hopped merrily down the wooden stepping stones keen to try the water play installation that includes a large spiral hand-pump. Pumped water spills from a tank and down a man-made creek bed under a wobbly ridge and young children's slide.
Although spacenets are becoming a dime a dozen in Auckland, they're always a great attraction for the children. Schnapper Rock's spacenet is 7.5m tall and has a rope bridge across to a fast slide.
A good drawcard for us at Schnapper Rock was a mini soccer pitch with permanent hard goals that rebound balls. Also notable are tall swings, which enable children to swing much higher than in many playgrounds, and humps built into the hillside to make cycling more fun.
Schopolo Playground - Albany
Schopolo Place
The children of Albany are very well-served. They have two new playgrounds close to each other in the new Schnapper Rock subdivision. The second one we visited was tucked in a slightly difficult-to-find cul-de-sac on the edge of the upper reaches of the Waitemata Harbour.
The small modern playground has a spacenet, lookout, swings and slides for smaller kids, and good views across Lucas Creek to Paremoremo.
If you've got time there is a new walkway from the playground, which goes up the Te Wharau Creek and doubles back into the playground at Wainoni Park North, which the children rated as one of Auckland's top 10 playgrounds last year.
Coyle Park - Pt Chevalier
Pt Chevalier Rd
This is one of Mum's old haunts from childhood - but rebuilt at the end of last year. This is a BIG playground, with something for everyone, including the ubiquitous spacenet and flying fox.
There are some unusual features to this playground, which include a giant climbing rock, some colourful lizard sculptures for little'uns, and a fort structure.
The best feature for my children was the push-along train which involves roping in Mum, Dad or a large child to push the train around its small track.
Wynyard Quarter
The Wynyard Quarter playground was an instant hit. It's not just one of Auckland's newest playgrounds. It's one of its best.
The structures at Wynyard Quarter are designed to reflect the life beneath the nearby wharf. There are stylised mussel stacks, rock pools and kelp structures, as well as real objects reclaimed from the waterfront during the upgrade over recent years such as heavy wharf timbers.
The Wynyard Quarter's "Kina Spinners" are the modern-day version of a roundabout, the climbing structures represent anemone, the monkey bars were created using real life buoys, and the entire playground is sited on sand, where little children play to their heart's content. There's also a basketball half-court and a giant water feature for children to paddle in.
It's not difficult to make a day of hanging out at Wynyard Quarter. There are restaurants and cafes galore and a tram stop immediately across the road from the playground.
The most surprising thing about this amazingly popular playground is that it is temporary because it is built on development land.
Heron Park - Avondale
Cadman Ave
Heron Park is huge, but has never had a playground. Not until 2011 that is.
While the children wandered over to check out the playground and disturbed two real live herons from their business, Mum walked to the bottom of the park where there is a large stand of pine trees, native bush, wetland, and finally mangroves at the Waitemata Harbour's edge.
By the time I returned, the children were sold on Heron Park. There is a decent-sized spacenet flying fox, slides, tall swings, and various pieces of pre-school play equipment set on a soft rubber mat.
All-in-all, it's a playground worth travelling to.
Stanmore Bay Park
Brightside Rd
Beach fronts are great places for playgrounds and the old Rodney District Council did an excellent job of the Stanmore Bay Park, which was completed just before the Super City came into being.
This is a large playground set back from the beach and across the road from the leisure centre, a dairy for icecreams and a takeaway bar for fish and chips.
The real drawcard is the unique lullaby swing, believed to be the only one of its kind in the country. Lullaby swings will be familiar to any Kiwi aged over about 20, who would have played on long wooden beam swings as children with mates pushing them at either end.
But these swings weren't kind to toddlers and others who wandered into their path. Playground designer Tina Dyer, however, spotted a modern, safer version, in Europe and recreated it at Stanmore Bay.
Okura Reserve
Okura River Rd
The good people of Okura lobbied for many years to have a playground in their rural East Coast Bays community. The result is a brand new community space on the village green.
Local children were canvassed and the number one request was a flying fox. The resulting structure is fast thanks to the fact that it's situated on a hill. Number two on the list was a skate park with grind rails, which was in use by two boys when we arrived.
The other features include swings, a small spinner, basketball, and netball hoops. At the time of writing the playground was on the verge of getting a small slide and wendy house to appeal to younger children.
Omana Regional Park
Omana Beach Rd
The most far flung of the playgrounds we visited, the Omana Regional Park is worthy of a day trip.
Omana's brand new playground is unique for its Maori theme. The monkey bars are in the shape of a taniwha, the entrance reminiscent of a marae, and other elements of tangata whenua culture have been incorporated by designer Ra O'Dowd.
It's fun and a bit different. What also makes this playground special is the neighbouring petting farm, where we met Bailey the goat, some friendly (or opportunistic) chickens, as well as a guinea pig and rabbit in a hand-crafted Thomas the Tank Engine cage. During spring there are lamb feeding sessions at 12pm and 4pm.
The verdict
Auckland's best new playground according to our testers was the one at Wynyard Quarter. It was designed and built by landscape architects Isthmus Group, who are also responsible for the Barry Curtis Park playground, rated Auckland's best last year. Isthmus also designed the Hobsonville Pt playground.
Here are a few new options to look out for
Currently under construction:
* Marybeth Playground, Papakura Long Bay Regional Park, Long Bay
Other newly completed or extended playgrounds:
* Tui Park, Birkenhead
* Nell Fisher Reserve, Birkenhead
* Rosedale Park, Albany
* Wairoa Rd Plunket (upgrade), Devonport
* Durbin Reserve in Greenhithe
* Glen Bay Close Albany
* Northboro Reserve, Belmont