Aruna Pillay came from Fiji with her then 16-year-old son Niten six years ago. She tells Cate Foster why the North Shore suburb of Northcote has become her new home.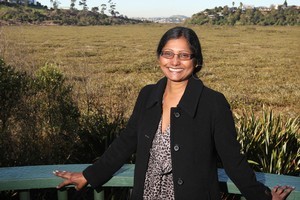 Before I came to live full-time in Auckland I would come on holiday. My mother and other family members were here and I would come, one month, two weeks, three months, time after time until I came here to live with my son. We came to the North Shore and he went to school at Glenfield College because it was near where my family were already settled.
Northcote is where we live now. It's close to my family and to my work. I like it like I like all of the North Shore. It always seems so clean and neat and tidy and the people are friendly. The shops are good and I can find everything I need for cooking.
All my family shops at Moshim's for groceries. It's a specialist Indian grocery shop not too far away from where we live. It is a good place to know about if you like to eat Indian food.
I work near the Northcote Shopping Centre. There is everything you need there whether it's a big supermarket or some small thing. There are also lots of small Chinese restaurants there I sometimes go to.
But Northcote is also close to the good shops in Takapuna and Birkenhead, and of course it's close to the Harbour Bridge so if I want to go over to the city it's not difficult. I don't do that very often though.
There is also a big public library which I use a lot and my son also. That's another of the reasons I like Northcote. It has everything I need close by apart from my work and my family. I drive a Toyota and my garage is really close to where I work. I can just drop it in and go to work.
I like all the beaches on the North Shore. They are just beautiful and I can never spend too much time there. Takapuna is my favourite but they are all beautiful. Sometimes at the end of the week I go with my friend Barry and we buy some takeaways and sit with it with our backs against the stone wall and watch the night fall over the water. We enjoy the view with Rangitoto right there in the middle. So peaceful.
Barry wants me to come to the Takapuna Golf Course in A.F. Thomas Park with him. He jokes that I can carry his bags. I haven't yet been but one weekend I might go. I can't play but perhaps it will be something new to learn. It's a public course so you don't have to be a member
I also like to walk and in Northcote there are lots of places to go. Firstly there is the walking path around Tuff Crater. The Crater is being restored but even now there are lots of birds there and it's a peaceful place to walk. You can get to it from several roads in Northcote. Perhaps my favourite park though is the Onepoto Domain, I love that one. It has a duck pond in the middle and lots of footpaths. Also I like it round Lake Pupuke, although that is not in Northcote. Wherever there's water and fresh air I like it.
I would never want to move anywhere else. My mother and aunties, brothers and sisters have been here for 30 years and now I am here I just want to live here forever.
Aruna's Picks
Tuff Crater Reserve Walking Path, St Peters St, Northcote
Moshim's Discount House, 54 View Rd, Wairau Valley, ph (09) 912 2815. Open 7 days, 9am-8pm
Takapuna Golf Course, 27 Northcote Rd, Northcote, ph (09) 443 5002.