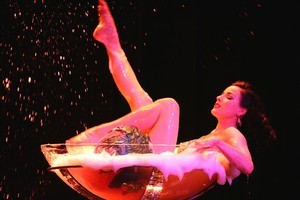 Dita Von Teese says her new lingerie collection is "meant to be seen".
The burlesque star is unveiling the new line, titled Von Follies by Dita Von Teese, in February 2012 via Target Australia stores.
The new lingerie line will feature luxurious vintage inspired garments and includes many of her favourites such as high-waisted panties and overwire bras.
"There are so many vintage lingerie pieces I love that I haven't been able to find in all my years of collecting," she said.
"I wanted to design pieces that are tributes to my vintage obsessions, to make them beautiful and functional, while modernising them for everyday wear. I've had a long-time fascination with the 1950's era over wire bras. It's something that has been quite a task to create, but the end result is so chic, and so unique, I'm very proud of it. It's a statement piece meant to be seen."
The line is designed to flatter the feminine curves. With this in mind, Von Teese ensured that her collection catered for a wide range of sizes with selected bra styles available up to an E-cup and briefs up to a size 24.
"It was very important to me to offer lingerie in a large range of sizes," she explained.
"Size range was one of the first things I asked when I was approached to create this collection. It was important to me to accomplish the task of making these beautiful things in sizes that can make any woman feel sexy and glamorous, and I'm very proud that we have been able to do that, while keeping prices affordable."
Prices range from $NZ22, with more elaborate bustiers and fitted corsets ranging from $105.
This is Von Teese's second underwear line. In 2008 she teamed up with Wonderbra to design a capsule collection.
- AAP