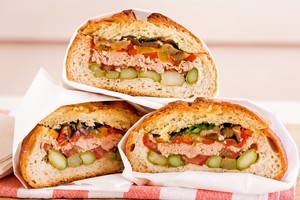 Makes 4 - can be made 12 hours beforehand
4 ciabatta rolls
Olive oil
Fresh oregano, basil and/or marjoram
Tinned tuna, drained
Grilled asparagus
Grilled capsicums
Grilled eggplant
Salt and freshly ground black pepper
Plastic wrap
1 Slice the top off each roll. Pull out the middle.
2 Brush inside with olive oil then layer on the filling ingredients.
3 Season and place the top back on the rolls before wrapping in plastic wrap. Place on a tray, place a second tray on top and weigh down with weights.
4 Leave for 6-12 hours before unwrapping and slicing or eating straight away.