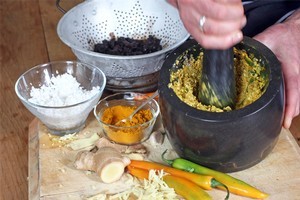 A Sri Lankan table will consist of curries, rice, roti and several sambals and side condiments, all served together to create a lovely blend of tastes.
1 Soak 45g of dried tamarind pulp in a cup of warm water for half an hour. Strain through a sieve, keep the tamarind water and discard the pulp.
2 Place 4 green chillis, deseeded and cut finely, 2 cloves of crushed garlic and 1 tbspn of grated fresh ginger in a mortar and grind with the pestle.
3 Add half a teaspoon of turmeric, a tspn of salt and 1 cup of desiccated coconut and grind again, gradually adding the tamarind water until you have a thick paste. Keep any leftover tamarind water as you will use it later. Serve as a side dish.