Delicious fast food at home is made all the better with tasty tomato additions.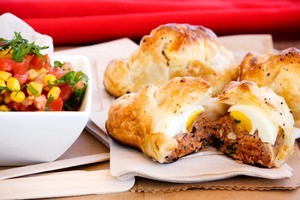 We all know that takeouts have their place in our busy lives, but it is also good to have recipes up our sleeve that can quickly satisfy those takeout cravings without having to jump in the car and fork out lots of cash.
These recipes are also great to turn to when people are coming over for a few drinks or a lazy night in watching a movie - which is often the time when takeout food is called for.
Samosas, empanadas and good fries are some of my favourites and all need delicious sauces to make them taste great; good old tomato sauce doesn't always cut it. I have based these recipes on tomato sauces which have all been given a bit of a rev up. Tomatoes are coming down in price and up in quality so are perfect to start using now.
The samosas are paired with a spicy Indian tomato sauce called kassundi - made with plenty of spices, garlic and ginger and left to simmer for an hour or so. It is a tasty sauce which can be kept in the fridge and used with bread and dips or with cheese or on sandwiches.
Though traditionally samosas are fried, they can be baked with an equally good result.
Empanadas are small pockets of pastry filled with tasty fillings. Popular in South America and Southern Europe, where people make them with chicken, seafood, chorizo - or with beef and jalapeno, black olive and boiled egg as I have done today - they are oh-so tasty when paired with a tomato salsa.
I have used tinned sweetcorn in the salsa, but before long fresh corn will be in abundance and will be far superior. Add plenty of coriander and a good splosh of sherry vinegar to finish it off.
Good fries are an indulgence but with a pretty high guilt factor, especially if dunked in aioli so I have oven-baked a range of vegetables today and made a tasty tomato sauce with fresh basil. Choosing vegetables with a lot of starch means the fries with be crunchy and will bake without falling apart. Use the red kumara over the orange, taro makes a perfect chip and parsnip are sweet, nutty and chewy in the middle. Though you do need to use a reasonably generous amount of oil at least it is up to you how much, and you can choose a healthy option and know they haven't been deep-fried.
Chef's tip
While fresh tomatoes taste better, both the tomato sauces here can be made successfully with good quality tinned tomatoes that have been canned at their peak. A little longer cooking may be needed though for more flavour to develop.