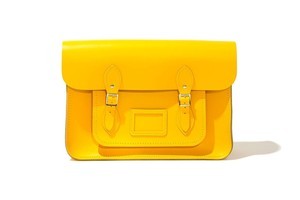 Leather satchels from The Cambridge Satchel Company, the bag made famous by a million bloggers and street style stars, are now available in New Zealand exclusively at Made. They have various shapes and colours in store - 11" purple and yellow leather satchels ($199), 14" black, green and brown leather satchels ($240), and more colours to come. Get in quick though, we suspect they will sell out very fast. Ph (09) 366 1693.
Doing good
If you ever need motivation to clear out your wardrobe, this is it: the Give It Up for Hospice campaign. Any avid fan of recycle boutiques will know that the Hospice stores around the country are great places to make some fabulous fashion finds - and pay next to nothing for them. Well, starting from next week the new campaign will encourage people to clean out their wardrobes and take their pre-loved designer clothes, jewellery and accessories along to Hospice. (They will even provide big bags to put things in.)
A good idea is also set up a bag at your work and encourage your colleagues to bring their clothes in. And then, on November 21, when all the garments have been sorted and displayed, you can go shopping at the Hospice stores and nab yourself some designer bargains. The campaign is being headed up by Gin Wigmore and New Zealand's Next Top Model winner Brigette Thomas. Both appreciate how hospices rely heavily on their shops to help raise much-needed funds to ensure the services they provide remain free to patients and their families. To find out how to get involved visit the site above.
Prada's jewels
Prada will launch a capsule collection of jewellery this month, described by Women's Wear Daily as featuring "unconventionally mixed and matched" materials, including leather, crocodile and metallic studs. The collection will feature necklaces, bracelets, brooches and rings, including amazing coloured gems and resin roses like those featured in their recent fashion show in Milan. The range won't be available here but it will be at the recently opened Prada boutique in Westfield Sydney.
Bills, bills, bills
The best way to kick-start a thrifty lifestyle is to get your finances in order; being aware of where your money is going, and knowing what bills need to be paid. Think lists, budget books, receipt folders and the like, for filing away bills, receipts and more - we like Kikki.k's simple organisers (the My Bills Organiser is $49.90, and My Receipts Organiser is $37.40). Ph (09) 849 4936.
In the bag
It's true: it is nifty to be thrifty. Wear your economical nature on your sleeve, or shoulder, with this calico bag from Wellington-based label Papercup - perfect for toting about library books, fresh produce or other thrifty goodies. It is $22, and available from The Yellow Brick Road Boutique, ph (09) 368 4015.
We heart Kate
A cute jewellery collection has arrived in Kate Sylvester boutiques, featuring signet rings and broken heart earrings in gold and silver. Made by new local jewellery label Mirabelle and designed exclusively for Sylvester, the "First Cut" collection was inspired by the idea of first love/first heartbreak, and the awesome 90s film Reality Bites. Each piece is handmade in New Zealand, and sized so you can buy one for each finger and wear them like a knuckleduster, and have the little hearts engraved - they also come in a leather love heart pouch. Prices range from $135-$450 (rings pictured are the "Together" ring, $180, "You Complete Me" half gold, half silver ring, $340; "Flying Solo" ring, $155 and "Tender Hearts" ring $180.) Ph (09) 524 8872.
Well read
Planning your summer holiday and wondering what - and how many - books you will be able to fit in your suitcase? Relax. With the new Sony Reader WiFi Touch you can take up to 1200 books with you. No bigger than a paperback book, the Reader features a paper-like E-Ink Pearl touch screen with advanced anti-glare, so it is easy to read even in direct sunlight. Book lovers will be spoilt for choice with a range of latest release, classic and best-seller eBooks. You can connect wirelessly to the internet with in-text access to Google and Wikipedia. In Sony stores from $229.95. Find out more at sony.co.nz/reader.
Viva is delighted to have a Sony Reader WiFi Touch to give away. To go in the draw, send your name, address and phone number to vipviva@nzherald.co.nz with "Sony Reader" in the subject line. Entries close November 7, winners notified November 8.
Hot ticket
Auckland's Soul Bar & Bistro is holding a special fashion show next week to celebrate the arrival of summer, featuring Kathryn Wilson shoes, Tigerlily swimwear, champagne and cocktails. We suggest making a night out of it with your friends - tickets are $75, and include a glass of Mumm champagne, trio of Absolut cocktails, selection of treats, a $10 donation to the Breast Cancer Research Trust, a goody bag valued at over $85, and the chance to win one of two hampers or a pair of Kathryn Wilson shoes. Wednesday November 9, 6pm-8pm, Soul Bar & Bistro. Ph (09) 356 7249 to book.
* We have two double passes to give away to some lucky Viva readers. To enter, send your name, address and phone number to vipviva@nzherald.co.nz with "Soul" in the subject line. Entries close November 7, winners notified November 8. One entry per person please, R18.