Some brilliant ways to save money stylishly from a few of our creative friends.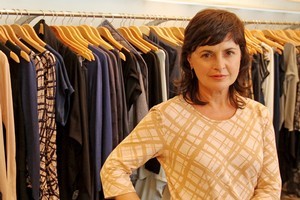 Laurie Foon
Designer/director of Starfish
* Walk or cycle, if you can. It makes me feel better, gives me a clearer head to think and I enjoy the change in scenery and views. I love saving my bus money for more New Zealand wine ...
* Invest in your shoes and really look after those you have. Keep them polished and get them resoled/heeled to get more mileage out of them.
* Own a really good pair of scissors, and alter what you need to revamp within your wardrobe, on the spot.
* Camping is one of the best thrifty holidays for money saving - plus it provides a great experience for the whole family.
Kelly Doust
Author of the just-released book Minxy Vintage
* Reference current fashions with similar pieces found in charity stores, flea markets or vintage clothing shops. For example, the biggest trends for the coming season are 40s frocks with more demure necklines and hemlines (Miuccia Prada is doing this to great effect with Miu Miu at the moment), orientalism and 60s Mod style, as seen at Burberry by Christopher Bailey. Forgo chain store rip-offs in favour of real-deal items, and modify with your own embellishment and tailoring.
Claudia Zinzan
Co-founder of fatherrabbit.com
* We use a whitewashed restored ladder in our bedroom to hang towels on instead of using the heated towel rail. We lean it on the wall in the sun and the towels quickly become lovely and dry, with no power wasted.
Juliet Blair
Creative director of Linden Leaves
* Make your precious facial cream, body lotions and oils go further by remembering to exfoliate regularly. There's no point wasting your precious potions on dry old skin cells that are not meant to be there. Regular exfoliation helps divest your skin of dead skin cells which soak up the goodness before it reaches the layer you want it to, and the massaging effect promotes good circulation, oxygenating your cells, and giving your skin a natural, healthy radiance.
Anjali Stewart & Rachel Easting
Designers of Twenty-seven Names
* Re-covering sofas - this past weekend we re-covered a wooden framed four-seater, with two matching arm chairs. Originally it was covered in a worse-for-wear polyester floral, but we brought some cream striped upholstery fabric and went bananas. Also, dump shops are a great place to find a diamond in the rough as everything is dirt cheap. They always seem to have an abundance of 90s cross-trainers - if you're that way inclined.
Kati Kasza
Managing director of Evolu
* Stuck with skincare products that you've found your skin has reacted to? Don't leave them in the cupboard to go off. You can often use them as a body cream or hand cream, as the skin is thicker and less likely to react. No waste that way and then you won't be as disappointed with your purchase.
* Ask for samples of products to try before you buy.
* Use a lip brush to apply lipstick - no wasted lipstick and you use less.
* Cut off the top of a tube when the product is getting low - you can then push this over the remaining part of the tube to make a mini tube. Great for using up all your cleanser, facial exfoliator and hand cream.
* Don't waste the insides of avocado skins - rub on to your legs or elbows as a great hydrator before you throw them in the compost bin.
* If you are feeding the family and need to make a piece of steak go further, marinate, then cut up into small pieces and cook teriyaki style. It's fantastic as part of a couscous salad - you can add small amounts of leftover vegetables too that might otherwise go to waste. The kids love it and it's a great afternoon snack for everyone when they get home from school and work.
Ingrid Starnes
Fashion designer
* We don't make a lot of non-thrifty purchases in general, with twins and a growing business we are pretty careful and make sure we buy quality once, rather than cheap often. But one of the things that can fritter money away can be takeaways on days we work late. It's one of those funny things that sometimes to save money it is best to spend a little up front. We get a box of seasonal fruit and veges delivered every week. The influx of good stuff means that even when really busy we aren't as tempted to get some takeaways when we have this big box of stuff that would give us the guilts. It is great for inspiring new meals and has handy recipes. And at the very least if we do crumble and get a pizza we make a great big fresh salad and don't feel so bad.
Lucy Marr
Salon owner and founder of skincare brand Sans
* Baking soda and apple cider vinegar: they are both magic. Baking soda thrown into your bath is excellent for rebalancing the pH of your skin and making it silky soft and hydrated. Mix the two together in water and it's great for cleansing any surface in your house or as a natural fungicide for your garden. For sore throats, gargle baking soda regularly. It's highly alkaline and therefore a killer to bacteria as they love an acidic environment. A shot of apple cider vinegar every morning re-alkalinises your body and is a brilliant health tonic.
Kirsha Whitcher
Designer of Salasai
* I'm a fan of mixing vintage opshop pieces with high fashion pieces: it shows style if you can mix it well. There's nothing better than buying some old Levi's in an opshop, cutting them into a crop leg length and rolling the hem.
Victoria Porter-Andrews
Sales and marketing manager of Nellie Tier
* Like many small companies we run to a tight budget. However, we still have champagne tastes and the olives below are generally accepted as the "bite" of choice when we are entertaining clients and customers. I love making up a large batch as they are not only delicious and fresh-tasting (and some would say superior to most delicatessen offerings), but far less expensive. Buy olives in brine - variety optional but kalamata good - with stones in (put out saucers for those). I do biggish quantities at a time - say a kilogram but any quantity is suitable. Drain and wash well in a sieve, and pat dry. Grate lemon and orange rind; be generous and avoid the white pith. There is no exact amount for this but you want a good cover of the zest through the olives. Now add oil: I use olive oil but any grade or a lighter oil such as canola is fine. Transfer olives to a jar or suitable container and store for at least two to three days before use. Much better to leave longer as the citrus peel infuses more flavour - in which case the oil should cover the olives. Refrigerate. Before serving bring to room temperature and drain excess oil (this is terrific to use for cooking or salads). Enjoy.
Vicki Taylor
Designer of Taylor
* Each year we spend a fortune wrapping Christmas gifts for friends and family. Recycle newspaper and use this as your wrapping paper, and finish with a stylish black bow.
Imogen Tunnicliffe
Senior Designer at Citta
* How about using old pallets, stood upright, in the garden, against an ugly wall. Fill with soil and plant with ferns, and so on - this gives a lovely "dripping plants" effect. Or breeze blocks - same type of thing, fill with soil, stack and plant with interesting plants.
Gosia Piatek
Designer/director of Kowtow
* Make your own cleaning products which are super-thrifty and environmentally friendly by re-using your old plastic bottles and filling them with a mixture of water, baking soda, salt and lemon juice.
* I love avocado and tomato and they're both in season. Spread on your favourite grainy bread and top with salt, pepper and olive oil. Millet is a goody also, cheap and great for you. Thrifty and delicious.
* Don't be scared to re-invent. Have friends over for an evening, swap items and give each other styling tips with the clothes you already own.
* Old doors make amazing-looking desks and outdoor tables ($5 at your nearest recycle centre or look on Trade Me) with home-made trestle legs from old wooden pallets (which you can pick up for free from most hardware type stores).
Sherie Rai
Designer of Sherie Muijs
* Dye old or stained clothes and bed linen to give them new life. If dying at home, add a tablespoon of vinegar to the final rinse to help set the colour. My latest craze is Oxford blue everything.
Janet Southern
Dr. Hauschka spokesperson New Zealand
* To keep your makeup budget in check, always keep a look out for products that are multi-taskers - buy a great eye shadow palette; value for money, every day neutrals that will do your brows as well, or a duo eye pencil - two colours for the one price!
Camille Howie
Fashion designer
* Sell your old designer clothing through recycle boutiques, and then you can use the cash towards new season items. Look after your shoes so they last longer, by keeping them polished and re-soled.
* Save eating out for special occasions - you can save a lot by making your own meals, and with summer close by comes the enjoyment of eating outdoors.
Jessica Whiting
Crafter, and director of foxes.co.nz
* Always try second-hand clothing on first, and only buy a perfect fit - a hem is easy but chances are anything bigger, like taking in a dress, you won't bother and it will sit there, taunting you from the back of your wardrobe, breaking your heart. I only buy boots second-hand, and look for quality leather, a classic style that won't date, heels and soles that can be redone easily and aren't worn through, strong seams and I only ever buy in person. Online is really fun, but it's best to try on for a perfect fit. I have several pairs still going strong.
* I love buying vintage scarves and often wear them as belts/sashes with high-waisted, full skirts or tied around my top knot, even some of the smaller ones as a cuff. You can often pick up bags of them for only a few dollars each and you end up with something very unique.
Anouk Treutiger-Mangan
Citta Design Store manager
* My thrifty tip is for cleaning windows, something my grandmother taught me. I use old newspapers to clean my windows, and they end up beautiful and sparkly clean. It's absolutely brilliant and environmentally friendly too.
Barnaby Marshall & Valentin Ozich
Designers of I Love Ugly
* Keep it simple. Nothing like a brand new plain T-shirt to make you feel fresh. It's easy and doesn't cost much. A pair of old chinos from the opshop can be chopped off and either hemmed or just left a little rugged. Mix that with a new pair of Vans for $70-$80 and you have yourself a next-to-new summer outfit, all for (potentially) under $100. And if you want to save that coin on shoes just go back to the Old School JTs (just toes).
Karen Murrell
Creative director of Karen Murrell beauty
* Grapeseed oil is a fantastic body oil, it is readily absorbed into the skin and is non-greasy. Fantastic for stretch-mark prevention.
* Choose an eye colour that matches your eyebrow shade. Slightly dampen your brush and use as a liquid eyeliner, to define eyebrows and apply lightly as a shadow. Often when I am travelling I use my body moisturiser to tame stray hairs. I use my lipstick as a blusher, just a smudge on the cheeks will totally lift your face. I apply coconut oil to my hair before a day at the beach - it is a great deep conditioning treatment which smells divine.
* Sleep, sleep, sleep - it's free. A good night's sleep will regenerate your skin more than any cream.
Nic Honeyman
Head chef at Cru, Sale Street
* Grow as many herbs as you can in your garden including chillies - this will save you loads. Harvest your chilies when they are ready and store them in the freezer where they will last for months and then cut them frozen as needed.
* Buy good extra virgin olive oil in bulk from the growers and store it in a dark place. There is nothing better than an amazing olive oil and nothing worse than paying $20 for a couple of hundred mls.
* Keep your stale bread which appears dried out and useless in the freezer until you have enough to make the ultimate bread and butter pudding. All those dry pieces of bread are hungry to absorb lots of lovely vanilla anglaise.
Tim Watts
Creator and performer in one-man puppet show The Adventures of Alvin Sputnik: Deep Sea Explorer (Nov 3-5, Herald Theatre)
* I always keep my paper napkins after a meal. Often you get given way too many, so I always pop them in my back pocket, they always come in handy, and I never have to buy tissues.
* Old jars or cans make great pencil holders, drinking cups, candle holders or pots for little plants. Good for indoor herbs.
* Not sure if it works the same in New Zealand, but in Perth our rubbish tips have a "shop" attached. It is the most magical place in the world. And everything is super-cheap. Great place for furniture, and random junk.
* Make your own 100 per cent recycled paper. I made my business cards from old scripts, flyers and grant applications. I keep two piles of used paper - one pile that I can print or write on the other side of, and another pile for completely used. With this pile I make paper. It's super-easy, and fun, and you can get a kit if you like. For my business cards I got a stamp with my details ($40 from Officeworks) and voila - cheap and cool looking business cards.
Bianca Talaic
General manager of Bare.PR
* I'm a sun baby at heart who loves a good tan. But a fake tan is the key to a safe and natural-looking glow, all year round. A great way to stay subtly brown rather than glowing like an orange is to mix a good natural bronzer with your regular body moisturiser and apply every day. This ensures your tan is subtle and consistent, and your skin still receives the hydration it requires to stay soft and supple - double bonus. At the moment I am using Trilogy Instant Bronzing Gel and am about to try out Green People Self Tan Lotion.
* A quick weekly beauty routine I follow to keep my feet in tip-top shape is my Thursday night in DIY spa foot treatment. Cover your feet in lashings of body butter, then wrap tightly with cling wrap, slip on thick socks and then kick back and let the body butter do wonders to repair, hydrate and revive your tired feet. I use Pure Fiji Body Butter every time and sometimes for a little added extra add Trilogy Rosehip Oil around my cuticles to soften them before I given them a DIY pedicure.
Sam Bunkall
Actor in Glorious (on now at The Basement)
* Go vegetarian. Or at least eat more vege meals. Massive saving to your food bill, and great for you the planet - just ask Einstein.
* Or check out the documentary Forks Over Knives.
* Walk. Seriously, Grey Lynn to the CBD is closer than you think. You'll save the same amount on travel money per week as you'd spend on coffees. And then if you make your coffee at home ...
JACQUI DIXON
Owner of Sabato
* Braise less expensive cuts of meat with ingredients like porcini powder and pronto rosso. Save the rinds from parmigiano-reggiano to flavour soups.
* Use a Biowash ball to wash your clothes. Rechargeable in sunlight, lasts three years and no washing power necessary.