It's been 12 months of trauma and disaster in New Zealand - Christchurch, Pike River, Rena, the Maui pipeline - and then there's the ailing economy. Where would we be without the World Cup?n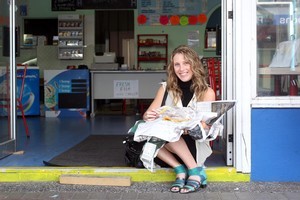 The Waikato town of Huntly is not the sort of place to inspire much joy on a Wednesday evening. All the shops on the main street are shut, except for a couple of takeaways. Groups of teenagers, some of them drunk, hang about on the street. There is a faint air of menace, discouraging eye contact.
But inside the Southern Cross fish and chip shop, the atmosphere is clean and bright. Prison officer Colin Newall is waiting for his order. He looks up in response to my question. "How has my year been?" he ponders, leaning his head back for a few moments. Then a broad smile transforms his face.
"My year has been fantastic." You can tell a lot about the state of a nation from what you see on the roadside. Just beyond the Northland village of Kaiwaka on SH1, a shop mannequin is dressed in a faded All Black strip. One outstretched hand holds a rugby ball, the other is clenched in a celebratory fist.
He has been there for weeks, the hero incarnate, in plastic, exhorting the thousands of passing motorists to support the team - battered by gales, rain, hail and perhaps even a dusting of geographically anomalous snow.
A couple of days after the World Cup final, his presence seems vindicated. But other things have been appearing on the roadside over the past fortnight; massive hoardings bearing familiar and not-so-familiar faces, underlined with promises and platitudes, sound bites designed to be easily swallowed by drivers, to be regurgitated in the polling booth on November 26.
Where one campaign has finished, another is just beginning. New Zealand, like the roadside mannequin, has been battered 12 months, by the two Christchurch earthquakes, the Pike River mining tragedy and, in recent weeks, the grounding of the container ship Rena and subsequent oil spill fouling the Bay of Plenty.
All of these setbacks have been played out against the backdrop of an economic crisis which has cost many people their life savings, their jobs, their homes and, for some, the future they believed was their inheritance in this otherwise lucky country.
The rugby victory and the imminence of summer have lifted some of the gloom we've felt. But how will that manifest in the coming election, and how do individuals in the provinces, away from the sometimes blinding glare of our big cities, feel about what they and we have been through?
Sometimes, you just have to ask. Driving into the Kaipara town of Dargaville you pass through long, flat expanses of kumara fields. Gangs of almost exclusively Maori planters are sitting on the machines in the hot sun.
That's where you're likely to end up if you try to apply for the dole at the WINZ office in Dargaville. The town has a kind of sun-stunned, Deep South of the USA feel to it. The vast, brown Northern Wairoa river slides through and phoenix palms reach against the blue sky.
Down by the boat club, two generations of farmers, Ray and Alan McEvoy, pull up in a ute and trailer loaded with kumara. This has been a good year for the farming sector, they say. No complaints, apart from the cost of fertiliser "going through the roof". There's no doubt who they'll be voting for in a month, although Alan can't resist a parting shout of "Richie McCaw for prime minister".
Kevin Brown pulls up in a 4WD. He's in sales, but in a rural town like Dargaville, when the farmers do well, everyone gets a lift. Dargaville has its share of poverty, both in the town and outlying rural areas and Brown admits that some people are struggling in the downturn. He reckons some though could help themselves by "getting off their arses".
"I've coped," he says. "I'm not on a big wage, but you just have to live with what you've got. And I'm still driving my V8 and going down to the harbour when I can." Merv Sproule doesn't drive a V8. He pulls up in his old ute and gets out with a slight limp. He's on a sickness benefit and knows the reality of having to live on a tight budget.
And he's not alone. He says the biggest building and the biggest employer in town is WINZ. Sproule knows of plenty of families who've been struggling over the past year to get by on benefits. "The World Cup has brought people out of their gloom and they're wearing their rosy glasses at the moment," he says, squinting in the sunlight. "But I'm in the lower 10 per cent in terms of income and the options are not so great. There are very few prospects in rural areas."
The drive from Dargaville to Northland's biggest city Whangarei is spectacular, winding up and down ranges of steep, green hills until the vista opens to the sea towards Marsden Point oil refinery and the peaks of Bream Head guarding the harbour mouth. Whangarei represents a contrast between thriving commerce, evident in the large industrial zones and sprawl of super stores, and the less visible poverty of some of the country's most deprived suburbs.
It's turned into a scorching morning and people are sheltering under trees by the town basin, where fishing boats and yachts lie motionless on their moorings. Lorraine Crookenden is sitting on a bench, doing sums on the back of an envelope. Her car is at the garage getting repaired and she is trying to figure out how the bill will affect her monthly budget. When you're living on a pension any unexpected cost can have a serious impact.
"There goes my next trip to Aussie to see the family," she shrugs. Like many people, Crookenden hasn't given the election much thought yet. Too many distractions, like getting her house painted, as well as all the dramas which have occurred throughout the country, not to mention the "overseas stuff" - the global financial crisis. She is aware that it's been pretty tough, for her and many others. Everything seems to go up in price but incomes don't keep pace. And even if Labour gets in and raises the minimum wage to $15, she doubts it'll be enough. Gone are the days when she used to go to the supermarket and buy whatever she wanted.
Half her family have voted with their feet and moved to Australia. The more you speak to people, the more it becomes evident that the way they view their year depends heavily on personal circumstances, rather than external ones. A dairy farmer waiting for a seat at a cafe, clutching a portfolio under his arm, reckons people are "crisis-ed out", and when the Rena hit the reef outside Tauranga Harbour they had the urge to give the Government a kicking. But these are good days for farmers and he can't see any big change on the political horizon.
A young student visiting her family from uni in Auckland is worried about the "terrible" fee rises but admits her parents will bail her out. Her cousins in Whangarei without university degrees are struggling to find work. South of Auckland, the ocean of verdant green dairy land opens out across the Waikato. The flags are still flying in a rugby-induced mood of patriotism.
A group of whitebaiters enjoy an al fresco brunch on the roadside, selling their catch to passing motorists. Towns like Ngatea and Waihi are busy by lunch time, with motorists and locals alike popping into takeaways and cafes for a bite. The people who stop to chat are distracted by everyday life - few of them have thought much about the election, but neither do they seem concerned about it. The overriding feeling is one of "steady as she goes".
Most people appear slightly taken aback when you ask them about their personal year, as if they've scarcely had time to think about it until now. They prefer to talk about the resilience of the country and the people around them, a sense of adversity bringing people together and a general optimism which has little to do with politics. But even as we drive through the region another little disaster is unfolding. Farmers are being forced to dump millions of litres of milk because of the leak in the Maui gas pipeline. What next?
Bruce Penberthy is waiting for takeaways in the Copper Kettle in Ngatea. Looking back he reckons more has happened this year than in any other year in New Zealand's history. He's an insurance broker and has been doing the rounds of provincial towns - Wanganui, Whakatane, Opotiki - and he's never seen so many shop closures.
And on the personal front? "I'm surviving," he smiles. "But I do have a debt of $4.5 million." He explains how the banks gave him 100 per cent mortgages and he went out and "bought up half of New Zealand". Now he can't sell the properties. So, how on earth does he keep smiling? You've just got to stay optimistic, he says, sipping his milkshake.
SH2 meanders into the Bay of Plenty, through avocado and kiwifruit orchards. Everything seems to be bursting with life this time of year. But once again there is a negative to this image. Something called Psa disease is spreading through the region's kiwifruit plantations and nobody can predict how much of the industry will be left standing when and if it's brought under control. It's a sobering preparation for what we find on the coast at Mt Maunganui.
The gently curving surf break looks gorgeous, glittering in afternoon sunlight. But it's eerily quiet, not a single person in the sea, the beach almost deserted and ranks of empty car parking spaces on the foreshore. Laminated signs warn of oil spills from the Rena, clearly visible on the horizon where it has been stranded on Astrolabe reef for nearly a month.
Abdul Zaheed stands in his kebab stall staring out to sea. He should be busy at this time of year but there are no customers. He estimates business is down by 80 per cent and he doesn't know how much longer he'll be able to hang on.
The oil spill and Psa have struck a double blow to the Bay of Plenty and Zaheed says many of the region's large Asian population are leaving for Australia.
"This is a big disaster. Everyone is running away." He gestures towards the sea view. "This is one of the most beautiful places in New Zealand. The beach is open but you can't swim. Who would take the risk?"
Among the handful of people on the beach are Nigel Weekes, his American wife Allyson and 10-month-old Micah. They're over from San Francisco to visit Nigel's parents who live down the coast in Papamoa. Nigel says they all went to Auckland for the World Cup to take their minds off the oil spill.
As a returnee expat he has an interesting take on what toll the year has taken on the collective psyche of his homeland. "I thought people here would be calmer because they haven't been through such an extreme recession as in the US. But they're not. They're really on edge."
Away from the beach, Geri Kraal is grabbing an early dinner at the Funky Fish. A sales manager from Wellington, she has been visiting clients in the region and says they are bearing up. The tourist ships are still coming in and that's good for business. From a personal viewpoint she has had a good year workwise and is coping with the economic downturn by concentrating on doing fewer things, riding her horse rather than renewing the gym membership. Although, like most people, she has friends who have lost jobs and are still looking for another one.
From the coast to the Kaimais and that astonishing view of the Waikato stretching away far below into the evening sunshine. By the time we reach Matamata the fish and chip shops are starting to get busy as people wander in to grab a feed. Glenn Bailey, his wife Toni and kids Amber, 10, and Caleb, 7, pause at the Broadway Burger Bar. They've just come from swimming lessons at the local pool.
"This has been one of our best years for a while," Glenn says, looking to his wife for confirmation. He explains how they had "a couple of goals" to achieve, plus he had a bit more stability in his spray-painting job. They'd bought a new car and were saving to take the kids to Rarotonga. They could never afford more than a trip to Whitianga before. They've set up an automatic savings account so their wages don't get eaten up in other ways. "There's always something that pops up," says Toni.
When Glenn takes one of the kids to the loo, Toni explains there were redundancies where Glenn was working. He survived, but his hours were cut. "On the whole we have managed to get through," she says. "And I do odd jobs to make ends meet."
They love Matamata. They have a house with a big section, walking distance to the shops and school. What more could they want?
The Baileys head for home with their fish and chips.
Share milker Aaron Johnson pops in to pick up his order. He's too busy to think about politics. He's already had to chuck away three loads of milk since the gas leak started.
Just up the street at DK's Burger Bar, Janine Canterbury is also waiting for her dinner. She got back from a holiday in Thailand yesterday (she's still got her tan) and today she's back at work on a poultry farm. The gas leak is causing havoc there, too, and she's feeling "a bit T-ed off". It took her five years to save the money for the two-week holiday. Was it worth it? "Absolutely worth it. Every penny."
So, I ask Colin Newall at the fish and chip shop in Huntly, what's been so fantastic about your year? Turns out he's getting married to his partner Dawn on November 25 - the day before the election. He returned to Huntly a couple of years ago after two decades in Australia and everything is falling into place. He's getting married, he's got what he reckons is a job for life, he's close to his parents. "We're not moving any more," he says. "We're staying."
And maybe, if the honeymoon or hangover doesn't prevent it, he'll vote for the first time in his 37 years. By the time I get back north to Kaiwaka late at night, the village's famously eccentric illuminations are lit up. What looks like a kind of nativity scene has been erected in someone's front garden - glowing rugby goal posts with a ball sailing through them. Stephen Donald's penalty kick, perhaps.
Up the hill the mannequin in his tattered All Black strip is still there in the darkness, his fist raised in perpetual triumph. They'll probably take him down some time soon, like a Christmas tree which has passed its use-by date. But, not just yet.