Diana Clement and family make a pilgrimage to the resting places of their ancestors in Auckland's historic cemeteries.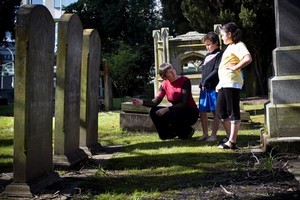 Graveyards are many things to many people. They're the last resting place of our ancestors. They're also sites of great beauty, although funerary art isn't to everyone's tastes.
This spring our family went on a pilgrimage to old family graves dotted over Auckland. The trips were tied in with days out ranging from Rugby World Cup events to jaunts to out-of-the- way places we've always meant to visit.
Waikaraka Cemetery
It was a chance visit to the Waikaraka Cemetery in which gave me the idea of a family cemetery expedition. In the backblocks of Onehunga, Waikaraka boasts some of Auckland's most impressive funerary art. A sea of it.
We needed to kill time en-route to Auckland Airport and noticed a walkway on the map, which led us to this cemetery. I am quite lucky my children have inherited my interest in graveyards, so poking around Waikaraka was a pleasurable activity for them.
What's particularly interesting here is the breadth of cultures. The newer part of the cemetery is popular with local Polynesian families.
The first time we visited, a Samoan man was sitting with his father who had been recently interred. A mound of flowers and tributes covered the grave. Dotted around are upside-down chairs, ready for relatives to spend time with their dead.
The older graves at Waikaraka really interest me. They're packed very close together, making them reminiscent of continental European cemeteries.
Symonds St (Grafton) Cemetery
My first childhood memory of a graveyard was a trip the Symonds St Cemetery as a 6-year old to locate old family graves.
It was 40 years before I would take my own children back to see the graves of some of our city's founding fathers, and early pakeha settlers.
We have several ancestors from the Guilding family buried on this side of the cemetery. Sadly their graves were swept away when the motorway was built and when Captain William Hobson's grave was "beautified" a few decades back.
The first grave we stopped at, that of Eliza Newbold, a stranger to us, who was buried with seven of her infant children. It reminded us what poignant places graveyards are.
The plan was to stop at Governor Hobson's grave, find the final burial place of Auckland founding father Sir John Logan Campbell and then walk to the bottom of Grafton Gully through one of central Auckland's few remaining stands of coastal native bush.
This type of trip never really goes to plan. Though in 1970 we managed to find Logan Campbell's grave with ease, it is now being swallowed by the bush. We had to resort to calling my mother for blow-by-blow directions to find it.
Then the path to the bottom of the gully was too lonely and littered with beer cans, and my nerve failed me. In 2011, as in 1970, the cemetery is quite literally home to a number of unsavoury looking characters.
As a child our shopping expeditions to town started by skirting the western section of the Symonds St cemetery and in particular the Jewish corner. The Hebrew writing and Stars of David on the gravestones had fascinated me.
Little has changed. Graves of the Mendelsson, Ehrenfried and Levy and other Jewish families are some of the best tended in the entire cemetery.
* If you're planning a visit to the Symonds St Cemetery, you can download a virtual tour created for the Auckland Heritage festival that can be played on an MP3 player or iPod, which can be found here.
Ramarama (Pratts Rd) Cemetery
After leaving Symonds St we jumped in the car and headed out to Ramarama based on information we received that New Zealand War veterans were buried there. What a great history lesson for children.
Thankfully we took the Tom Tom with us on this trip as the graveyard appears oddly located out of town.
We checked every grave that hadn't been swallowed up by the bush and couldn't find said veterans. But the trip wasn't wasted. The cemetery provides access to a local waterfall and waterhole, popular with children and teens and offered good views of the Bombay Hills.
Historic cemeteries such as Pratts Rd house the graves of local bigwigs whose names are often still known because of the streets and parks named after them.
We didn't know the Donovan and Hill families, buried en-masse at Pratts Rd. But they appeared to play a big role in the development of the area.
Drury Presbyterian Cemetery
The New Zealand War veterans hunt did come to fruition thanks to the nice lady walking her dog at the Pratts Rd cemetery.
She sent us to Drury where a garrison had been kept for many years. There had been a lot of fighting at Rangiriri, probably less than a day's ride away.
I was particularly interested in the grave of Pvte 2331 John McKay of 65th regiment of foot, Yorkshire North Riding, who died on 14/9/1863 aged 39 years. His gravestone was new-ish.
Our cemeteries expedition made me realise that a lot of people remember their ancestors long after they're gone. A minority maintain and restore graves that are more than 100 years old.
Waikumete Cemetery
As a seventh-generation Kiwi I've got family buried here there and everywhere, which is a good motivator to get the kids out visiting graveyards.
Set on a hillside with valleys and pockets of native bush it's possible to spend much of a day mooching at Waikumete Cemetery.
One of the more interesting sections of Waikumete is the urupa or Maori burial section. Traditionally, Maori were buried in urupa often situated at the highest point of land at their marae - which is why many burial sites are on hills. Waikumete also has Muslim and Jewish burial areas.
Each section of the cemetery has its own character and story. Victims of the influenza pandemic of 1918 were taken by rail to Waikumete and buried in unmarked graves along Eucalyptus Way. A simple granite memorial marks that site.
One of my ancestors, Norman Price Jack is buried in a plot, described in the information provided by Waikumete Cemetery as Nonconformist Division C, Row 1, plot 43. Finding that was a mission, even with a map in hand.
The grave bordered a bush gulley. Sadly the remoteness of parts of Waikumete Cemetery lend themselves to illegal and antisocial behaviour and I made a mental note not visit the nonconformist section of Waikumete on my own.
As we approached our family grave, a number of dodgy looking young men in a boy racer car took flight at our arrival and drove right off the ill-formed path and deeper into the gully to complete their business.
* Waikumete's Friends of the Cemetery runs organised cemetery walks during daylight saving hours for people who like guided tours.
O'Neill's Point Cemetery, Bayswater
This graveyard on Bayswater Avenue is one of the North Shore's oldest pakeha burial sites. Finding my great, great, great grandfather Captain John Lander's grave was easy. It's only a few metres from the main entrance.
O'Neill's is a pretty and thankfully safe place to visit. It overlooks the harbour and is relatively well tended. A walkway stretches over the mangroves around the coast to the new Northboro Playground and nearby Little & Friday cafe, which can extend the visit into an afternoon.
Cemeteries worth a visit:
Drury Presbyterian Cemetery, Great South Rd, Drury.
O'Neill's Point Cemetery, Bayswater Ave, Bayswater.
Pratts Rd Cemetery, Pratts Rd, Ramarama.
Symonds St (Grafton) Cemetery, Symonds St, Auckland Central
Waikaraka Cemetery, Alfred St, Onehunga.
Waikumete Cemetery, Great North Rd, Glendene.