Pauline Mee takes Rebecca Kamm through Helensville's vibrant cafe culture.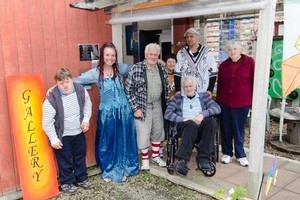 I moved to Helensville just on three years ago, when I was offered a job at Mount Tabor Trust working with people with intellectual disabilities. I do 32 hours a week. co-ordinating arts and activities, but I really work with their abilities, not their disabilities.
I also work 10 hours a week co-ordinating at Helensville's Art Centre, which is a real community art space. It's gone from strength to strength in the past 18 months or so.
I'm a real cafe girl, and especially enjoy the The Parlour, which opened recently. It stays open till 8pm, which bridges that gap between work and dinner. There are cakes in the window; it's very old-fashioned. We're looking at having storytime for kids there on Friday evenings, and then a spoken word night for adults that would lead on from that. It'd be a space for people who might not like going to the pub - like me; I don't like alchohol.
The Ginger Crunch cafe is great, too. I do my creative writing on their leather settee. There's just something about writing on a leather settee that seems right.
The Grand Hotel is the most elegant setting in Helensville. I go to the restaurant for a croissant and coffee; it makes me feel like a lady.
There's a shop called Monkee Business in the same block that stocks absolutely beautiful artwork, artisan products, and secondhand goods that have a touch of Kiwi nostalgia. Everything in there has so much personality - you go in and you never know what you're going to find.
The French Rooster, a store down by the railway station, sells gorgeous things for home decorating. Beautiful vases and clocks; things you don't really need but absolutely love.
Tilly & Lace is a clothing store and label that sells beautiful, distinct pieces that are lacy, feminine and pretty. They're a little pricey, but everyone can see you got your piece from Tilly & Lace, so you can happily flaunt your excess.
The Riverview Restaurant is nice for a view of the river. And Porcini Cafe I'd recommend for intimate dining and award-winning food.
Helensville is a beautiful example of a small community, where you're linked with almost everyone. If you have five people you need to catch up with, for instance, you just spend an hour sitting outside at a cafe and three will come by.
Pauline's picks
The Parlour, 81 Commercial Rd. Ph 022 043 8436.
Monkee Business, 7 Commercial Rd. Ph 022 638 4174.
Art Stop Cafe, 5 Commercial Rd. Ph (09) 420 8580.
Porcini Cafe, 25 Commercial Rd. Ph (09) 420 8025.
* Pauline is curating the art section of the Interact festival in West Auckland, October 28-30th. This unique festival includes both able-bodied and disabled participants, on stage and behind the scenes, as well as "outsider" arts in general.