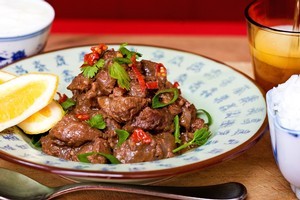 Serves 6
1.5 kg beef chuck steak, sliced
1/4 cup plain flour
Salt
2 Tbs vegetable oil
1 Tbs peanut oil
3 Tsp cumin seeds
3 garlic cloves, finely sliced
1 onion, finely sliced
1 red capsicum, deseeded and finely diced
1 Tbs brown sugar
1 Tbs smoked paprika
1 cup beef stock
1/2 cup vegetable stock
1/2 cup red wine
1 Tbs chilli sauce - Kaitaia Fire, Hot Samoan Boys or Tabasco
2 fresh banana chillies
400g tin chopped tomatoes
Rice, yoghurt, sliced spring onions, coriander and lemon wedges to serve
1 Toss the sliced beef with the flour then season.
2 Heat the vegetable and peanut oil together in a large saucepan. Add the beef and brown. Remove then add the cumin seeds, garlic, onion and capsicum.
3 Cook together until soft then return the beef to the mix.
Add the brown sugar, paprika, both stocks, wine and chilli sauce.
4 Finely slice the banana chillies and add with the tomatoes. Cover and simmer for 4 hours, stirring occasionally and add water if necessary to prevent sticking.
5 Serve the chilli beef with rice, yoghurt, spring onions, coriander and wedges of lemon to squeeze over.