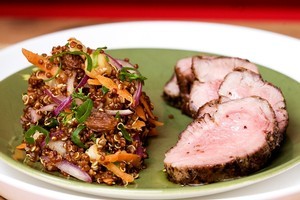 Serves 4
Salad
1/2 cup raisins
1 1/2 cups quinoa
2 1/2 cups water
Salt
1/2 cup chickpeas, drained and rinsed
1 cup carrot, grated
1 small red onion, finely sliced
1/4 cup slivered almonds
2 Tbs parsley, finely chopped
1 spring onion, finely chopped
Freshly ground black pepper
2 Tbs olive oil
Zest and juice of one lemon
Lamb
2 lamb fillets
Olive oil
Salt and freshly ground black pepper
2 Tbs horopito
1 To make the salad; put the raisins into a small bowl and cover with boiling water. Leave for 15 minutes before draining.
2 Put the quinoa into sieve and wash until the water runs clear. Bring the 2 cups of water to a boil then add 2 teaspoons of salt. Pour in the quinoa and cook for approximately 15 minutes or until tender. Drain and let cool.
3 Add the remaining ingredients to the quinoa, stir and leave while cooking the lamb. This salad is good for up to three days.
4 Preheat the oven to 200C. Heat a frypan. Rub the lamb with olive oil and season well. Sprinkle over the horopito and massage in. Add a tablespoon of olive oil to the pan and sear on all sides until golden brown. Finish cooking in the oven for 10 minutes then remove, cover with tinfoil and let rest for 10 minutes before slicing and serving with the salad.