Sydney interior design star Sibella Court's new book celebrates her love of travel and how it inspires her work.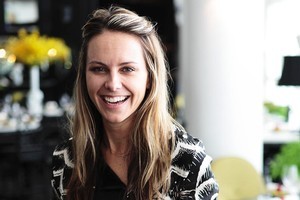 How did you start out in your career?
I started styling in my early 20s after a girlfriend suggested I come and work with her at Vogue. Soon after I moved to the United States and New York became home. I styled for retail giants and cool publications and after 10 years it was time to come back to Sydney and start some of my own super-cool projects like my shop, The Society Inc. I also wrote three books Etcetera etc: creating beautiful interiors with the things you love, The Stylist's Guide to NYC and Nomad: bringing your travels home (out in November). I also launched my functional hardware range, a 110-colour paint range, my workshops plus lots of other fun stuff I haven't got to just yet. Upcoming events include my international book tour for Nomad through Europe, the US and Australia, a photographic exhibition which opens in Sydney on November 15, called Souvenirs from Etc and a Christmas workshop hosted by the amazing Glenmore House - this will be our best one yet. For more info go online.
Tell us about your new interior design book Nomad?
Nomad came to be from so many customers, friends and clients who were at a loss as to how to translate all their travel inspiration into their space once home. Plus, it was a great way of collating my work and love of globetrotting.
You say you shot all the images for the book around Sydney. How did this come together?
Luckily for me I have lots of wonderful, generous friends with beautiful homes around Sydney to use as my backdrops. This came from lots of smiles and claps and thumbs-up on my behalf. It shows that you can use any decorative background and restyle and change to your desires and recent inspiration. Any of these locations could have been changed to suit any of the travel inspirations. It's about displaying your souvenirs or just your memories through colour, installation and imagination to reveal your inspirations, nomadic spirit and own personality.
This book is not about theming but rather adding flavour from your recent globetrotting adventures. If you are unable to travel physically, this can be achieved through reading, movies, magazines, books and your general interests.
It is not about expensive renovations or construction changes, but through adding and subtraction and rearranging of your existing things, it's about lo-fi and being clever with the things you already have.
Nomad is based around five countries. How did you choose these?
The appeal and choice of the five destinations was to cover a cross section of the world that people might have been to or want to go to. I chose countries/places that vary in culture, religion, adventure, geography and felt that they would reveal themselves in very contrasting ways.
I was right. The desert tones of dusty Damascus to the serpent scale colours of the Amalfi Coast, the deep indigos of Japanese papers and textiles, the pops of reds and fuchsia in the flowers in Mexico - to the faded dirty pales of painted woodwork in India.
How did living in New York for 10 years affect your approach to design?
Every experience in my life contributes to my style in some way. In NYC I worked for so many magazines and advertising agencies with talented photographers from all over the world. I built huge sets, styled crazy still-lifes, shot amazing houses, hotels and locations across the globe. Perhaps my layering approach, the love of the found object and emotive interiors came from this exposure - or simply the love of a great early morning American flea market or my pressed-tin loft (once a sweat shop) in downtown Chinatown.
How do you think interior design has changed over recent years?
There is a creative movement at present, to be eclectic, personal, hand-touched. A mix of architectural, art/craft, found, designed, recycled and upcycled all used to together to create interesting, thought-provoking, sensitive, interactive comfortable spaces that reflect the owner's personality and lifestyle.
What future trends do you predict?
I don't follow trends and am generally not interested in them. I love to see people doing their own thing. I travel constantly and meet passionate artists, craftspeople, architects, designers, tradesmen. I think the combination of these talents dictates what happens in the future.
What gets you up in the morning?
The sunshine. I look forward to the day's surprises. No two days are the same for me, at any given time I can be working on over 10 projects from books, product ranges, articles, exhibitions, workshops, designing restaurants, bars, islands, wineries, cafes, sourcing furniture, meeting artists, bidding at the auctions - so much fun to be had.
What keeps you awake at night?
Dancing and champagne. Otherwise, my days are very full. I generally sleep very soundly but with my active imagination, my dreams are pretty vivid, and often I will dream of space and design solutions.
The best thing about your life?
I have created my own job description and I love what I do. I surround myself with passionate, happy, energetic, inspiring people. My studio is a world of inspiration and a visual feast that is a reflection of me and my life and I travel all the time.
The worse thing about your life?
Negotiating. I'm not good at it.
Top travelling tip?
Inspirations comes in many shapes and forms, and often not literally. I did not go looking for existing interiors to recreate when I returned home but wanted to draw inspiration from all aspects of my trips: a street sign, a garden grate, a leaf on wet cobblestones, washing drying against a painted wall, a glimpse into a foreign kitchen, the mundane and the fancy. Don't rule out the casual walk around a new town as well as museums, restaurants, shops: experience it all and do as I do, take lots of pictures.
I am always attracted to the unusual and the curious and hunt them out in daily food markets, monthly flea and antique markets (preferably the outdoor ones, with goods spilling out of the back of vans), natural history museums both small and large, artists' ateliers, historic houses and traders' workshops, etc. Don't forget to go with an open mind and ready to embrace all experiences.
Favourite piece of memorabilia from a trip?
I collect and gather many things on my globetrotting adventures, some are incidentals that I love just as much as the more expensive pieces.
When I was travelling in Spain a couple of years ago, I decided I could only buy things that were flat and could fold. I ended up with little stacks of postage stamps from an early morning market in Barcelona, some rubber stamps and a small folding lamp from a fleamarket in Seville.
I am just as happy with some wrapped sugar cubes from a European cafe or some sea-tossed stones from foreign shores that become paperweights, doorstops or decorations once home. On my last trip to India, I bought old hunting photographs with the men all dressed up in safari hats and suits with magnificent moustaches.
Last thing you bought for your home?
A papier mache walrus trophy head. I bought this from one of my favourite shops, John Derian (see The Stylists' Guide to NYC for details). It sits proudly on the studio wall, all dark blue and whiskery. It makes me smile when I look at it.
Right now, what/who/where are you being inspired by?
Ilse Crawford - an absolute genius in the interiors world.
Won kar wy - the director of In the Mood for Love, for the colour palette and use of fabrics. It's my most recent inspiration for a restaurant.
James Turrell - his play on light, shadow and space. I had the luxury of viewing some of his works while visiting Naoshima in Japan's South Seas.
Kit Kemp - she changed the look of the hotel industry; amazing inspiration and wealth of information on textiles and interesting artists and craftspeople.
Caravane in Paris - for the most beautiful textiles and collection of well-edited and designed furniture and lighting.
Museum collections - working on my fourth book and accessing museum vaults is an absolute treat and inspiration.
When you start a design assignment what is your process?
For my commercial interiors, I look at the history and the surround. I immerse myself in the story that I create around the space and who would like to go there. I then work on a 10-colour palette and think of the fixtures and finishes. By then it's pretty clear in my mind how the whole space will look and feel and I get into the specifics and details.
To translate my ideas, I often lay out a 3D storyboard with inspiration images (mostly from my travels) colour, objects, etc that translate what is in my head. To create my functional hardware range, I looked at all the beautifully crafted hardware I had collected over the years and gathered all my favourite textures and materials. Many people would not take a second look at forgotten or superseded hardware, but for me it holds as much wonder as a treasure chest. I used inspiration from my own collection of ageing wood and tarnished metal, my grandfather's pegboard and inspiration from pieces I discovered in Syria, India and the backstreets of the States.
What do you do to relax?
I go to the beach: running, swimming, walking - anything to be near it. My work often meshes into my relaxation, there is no line drawn between the two, the things that inspire me also relax me - cinema, books, sourcing, exhibitions and galleries, shopping, markets, etc.
Sibella's top tips for creating a home with personality and individual style
1. Make your space 3D. Hang things from the ceiling and out from the walls.
2. Make the best of your space with some great shelving units. I have custom-made floor-to-ceiling shelves to house my ever-growing library.
3. Have a sense of humour. I have a collection of pictures of moustached men spread throughout my home that always make me smile.
4. Always consider the vista: through a doorway, from different parts of the room, sitting, standing or just passing through.
5. Nothing is permanent. Change the entire feeling of the space with a quick dado in 10 minutes, rearrange furniture, a nail in the wall and a new picture hangs.
6. I like to choose a 10-colour palette. This gives me restrictions to work within so I don't get too carried away. Use two, four or all the colours - whatever feels right.
7. There is no reason why necessities can't be aesthetically pleasing. I like my sprays in spit-and-polish brown bottles.
8. Surround yourself with what makes you happy and triggers your memories. Your space is all about your lifestyle, loves and family.
9. There are no rules.
* Images extracted from Nomad: Bringing Your Travels Home by Sibella Court. On sale November 1 ($75: Murdoch Books). Distributed in New Zealand by Allen & Unwin.