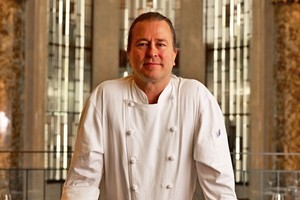 If you ever needed an excuse to treat yourself to a stay at one of New Zealand's most luxurious lodges - Cape Kidnappers - here it is: acclaimed Sydney chef Neil Perry will visit the lodge on November 13 to cook a fabulous five-course dinner at The Farm at Cape Kidnappers in Hawke's Bay with wines by hot new Hawke's Bay label Kidnapper Cliffs - a recently launched premium collaboration between Dry River Wines and Te Awa Wines. The lodge is set among 6000 acres of the most breathtaking coastal scenery and includes an award-winning par 71 golf course and indulgent spa treatment facility. $800 per person per night for double occupancy, includes luxury suite accommodation, and dinner by Neil Perry. To book, ph (06) 875 1900 or email reservations@capekidnappers.com
True decadence
What do restaurateurs lie awake thinking about at night? Well, if you're Michael Dearth of the award-winning Grove restaurant it's how to celebrate winning the Rugby World Cup in style. His answer, a mouthwatering, decadent, blow-the-budget, cocktail-of-all cocktails (pictured).
Made with roasted Karitane crayfish, truffle butter, tempura soft shell crab, crayfish beignets, tomato consomme and Broken Shed vodka - this just has to be tried. $50, The Grove, St Patrick's Sq, Wyndham St, City, ph (09) 368 4129.
Good to go
We've always been a bit partial to the fruity flavours of San Pellegrino Aranciata Rossa - sparkling blood orange fruit juice made from sun-ripened Sicilian oranges (just the description transports you). Well, the good news is, just in time for summer, you can now buy it in cans - making it perfect for picnics.
Italian food lovers
The Giro d'Italia (Tour of Italy) continues with another extravagant dining experience, this time at Toto Restaurant on Wednesday November 9. Guests take a journey into the Italian way of cooking, with Otellos locally produced traditional Italian cured meats and sausages featuring on the four-course menu and in the goodie bags. To book, ph (09) 302 2665 or email toto@totorestaurant.co.nz by Friday November 4. $95 per person.
Put it on the list
Named "The Vegetable of 2011" by Epicurious.com and listed as one of the "Top 10 foods to watch" by the British Food Channel, they're packed with more antioxidants than rice or potatoes, have a similar Vitamin C content to an orange and are virtually fat free. We're talking kumaras of course. The rest of the world may know them as sweet potatoes but we have our own varieties, bred right here in NZ with fantastic names like Tokatoka Gold and Owairaka Red. Great for the barbecue, because they cook twice as fast as a spud and we love that they're available year-round. Go the mighty kumara.
Morning glory
Mister Morning, on K Rd, the sister act to Coco's Cantina is now stocking groceries and serving up that American tradition of ... filter coffee. $3 a cup and sly refills are encouraged. Open Mon- Fri from 7am. 374 K Rd.
Congratulations
Five-star hotel The Langham Auckland has been named the top New Zealand hotel in the prestigious Conde Nast 2011 Readers' Choice Awards. It was the only New Zealand hotel to feature in the top 10 list, being rated third best hotel in Oceania. Jeffrey van Vorsselen, Managing Director of The Langham says "This award shows that we are successfully creating fabulous memories here in Auckland for our guests and I know that my team go to great efforts to do so."
When I last stayed with them, in Melbourne, and left my favourite bikini behind in my room, it was posted back to me, wrapped beautifully in pink tissue paper - an example of the great effort they go to.
Check it out
From the same duo who livened up the Grey Lynn shops when they opened Mondial Bar, we can now settle in at Beresford Square Wine Bar, a cosy bar in Beresford St. There's a limited, but delicious, menu including bruschetta, charcuterie and beef carpaccio - the perfect accompaniments for a wine or a jug of sangria.
6 Beresford St. Open Tues-Sat 4pm-late.