Summer hair has gone colour crazy.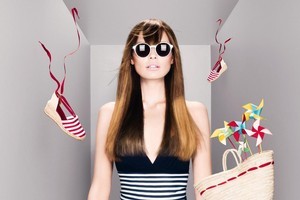 Hair shows too often remind me of wearable art events, at times amazing, usually inventive, but often anything but wearable. Those in the industry would doubtless disagree, but though fashion can usually be translated fairly easily from runway to reality, hair isn't always as easily explainable. As with clothes, when creativity comes together in a way that is cutting edge but also be consumer-friendly, you're on to a winner.
Servilles summer hair show pulled these two at-times diametrically opposed notions together in a way that had me hoping I'd see some braver hair choices on the street this summer. Having grown up in the post-punk try-every-colour days, I get a bit nostalgic about blue tips. I don't seriously want to see a return to DIY dye jobs, but banishing "beachy" in favour of something a little more challenging seems long overdue. We saw that this month when the Servilles team interpreted L'Oreal Professionel's global seasonal Summer Illusion collection. Senior stylists and academy graduates collaborated on a range of sharply styled looks that Paul Serville said "were still very much about the wind". He meant they had a movability and a subtlety, where cut and colour combined to reveal itself.
Depending on the angle - or the wind - the style would "open up a new bit of colour".
The Summer Illusion hair looks take their inspiration from the fantasy fashion mash-up of feathers, giant bows and ruffles and boxy exaggerated shapes. At Servilles this saw senior stylist Emma Scott use teal blue to edge an asymmetric feathered bob and dark tips on a riot of red curls.
Such colour might be temporary for a fun look - backstage, heavily pigmented makeup powders were worked into hair - or done in salon with strong shades that will last. I liked a chocolate look with sapphire ends that was truly smart enough for the office.
Apricots, pinks, salmon, silver and violet were all used on ends to good effect. Stylist Kyla Rose said: "We stole if from old ladies, but it's for anybody, any age."
Although shapes were strong, with undercutting and asymmetry they remained relatively uncontrived. Styling was relaxed also, using products that created volume but did not fix hair rigidly, which again translates to wearable.
Serville says he sees this approach appealing across all age groups; no one now wants to look overdone, he says, however much effort may have gone into getting the end result.
"You see it for school balls, the girls want to look after-party, not pre-party."
Hidden depths
When block colour meets balayage, hair takes on new tones. The popular balayage technique can often be rather obvious - beachy blonde with darker roots is its most obvious interpretation - but done well, and subtly, it is flattering and wearable, with regrowth much less obvious than with global colour. Strong solid colour made a definite comeback over winter and leading into summer we see a merging of the two ideas with interesting effects. An emphatic first impression manifests into intriguing tonal variation. These three looks from L'Oreal Professionel's Summer Illusions global trend forecast illustrate how colour can be utilised on differing bases: light, medium and dark. The overall impression is bold, the colour work is creative, yet designed to be easily individually tailored for salon clients. We like.