Make like a professional with the latest hair styling tools.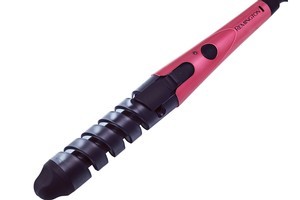 For a polished look to your hair, you can't go past using a dryer and/or a styling tool. Sadly these same tools misused can leave your hair looking the opposite of your intentions, with dry, dull, frazzled ends all too common. The trick is to choose - and use - wisely and well.
As well as the ubiquitous blow dryer and straighteners, curling wands and tongs are popular these days and a set of heated rollers has a lot to offer; but if you want to avoid having a drawer full of little-used electrical goods it pays to be realistic about how much home styling you will do.
Invest in top quality for tools you use daily, or at least weekly, and save on those you will use occasionally.
In all cases buy reliable brands that carry a guarantee and check functionality carefully, as anything with a stupidly short cord, inadequate oomph, or a fiddly handle will be an irritant. If you are after a special effect, such as crimping, you may be best to spend the money in a salon first rather than go DIY. That way you get to check how much you like the look and what effort is involved in recreating it.
Travel-sized tools are a mixed blessing. If you are on the go a lot, especially for business, they may add up, but otherwise make do with hotel dryers, low-maintenance styling (pony tails and simple updos) or lugging your favourite full-sized tools along. There are some good compact dryers, but if you buy an underpowered one, what you save in space and weight you may waste in time. If you choose a small straightener, you may end up with something that is maddeningly inadequate, so make sure the plates are big enough and look to save space on total length. Mini straighteners are best for touch-ups and fringes, unless you have short, fine hair. Where they are handy for anyone is in the desk drawer or tote bag if you need to refresh your style.
Certain brand names dominate the industry, ghd has become a synonym for hair straighteners, but there are plenty of others that work well.
One brand that has made a real impression in the last few years is top-end Cloud Nine, which makes stylers with sophisticated temperature control and plate technology. We haven't dwelled in our testing on straighteners because many people are familiar with these, but do look out for comfort in handling and the ability to adjust temperature to suit the texture of your hair. We've touched on some of the newer devices out there before in Viva, including the The O from Cloud Nine which is a technology fan's treat, warming a roller in seconds; accordingly, hairdressers love it. Being not terribly portable and rather pricey this is the sort of home purchase you should only consider splashing out on after a trial.
Parlux is considered the Rolls Royce of hairdryers, but the Via brand has become a salon staple for sturdiness and good pricing. Remington is one of a number of reliable retail brands, but like others such as Vidal Sassoon it offers various models, so it is important to check that the one you choose has the features you are after.
To help with selection, Viva asked for advice from Jerome Rusk, a senior stylist at Oscar & Co, in Takapuna. Having also worked for hair product companies, he has good insights to share.
What's the most useful hair tool to own?
This depends on an individual's most important needs. Hair straighteners continue to be the most versatile as they can be used to smoothen as well as straighten and can be used to create curls, waves and movement.
What's the coolest new tool?
The hair Wand by Cloud Nine is fun and easy to use. With the wave movement still apparent, this tool is easy to use, just wrap your section of hair around the conical device, hold it for a few seconds and release. Instant wave ...
What should buyer look for in a home hairdryer?
The world continues to operate in a "time short" mindframe, so having a dryer that dries the hair quickly is essential. A dryer that has a higher wattage than 2000w is a good place to start, an ionic dryer will speed up that process even more. A dryer with a "cool air" option is handy for setting the hair. (Rusk recommends the VIA VHD-600 and Via combs and brushes).
What does ionic technology mean?
Ionic technology works to dry your hair faster as it causes the water molecules to fall off the hair shaft more quickly. It emits negative ions which in turn neutralise the hair's atoms and eliminate static and frizz making hair smoother, therefore shinier and healthier looking.
How does the choice of heat styling tool help avoid hair damage?
Using a good quality styling tool, along with a salon quality protectant, will decrease the chances of drying out your hair. There are products with UV filters too. Using the tools correctly is very important. Talk to your stylist about the correct way.
Any other tips?
Strike up a conversation about your hair with your stylist, who has the knowledge. Get to the base of any issues you may have. Using the wrong products can often leave you feeling deflated about how you look.
Using the right products is as vital as having the right ingredients when cooking.
1. Remington Perfect Curls $79.95
A school holiday hit with the tween in my household. Easy and safe to use and gives a good corkscrew curl through the ends and mid lengths. The trick is to wind small sections from the base. Less versatile than a wand, but leaves a stronger, defined curl. Use all over, or just for ringlets either side of the part. The silicon barrel surround and decent-sized cool touch end means the device won't burn fingers or surfaces. It heats up in 30 seconds to 180deg and has a swivel cord usually only found on more expensive tools. Children from older primary age upwards could happily use unsupervised. Stock up for Christmas, they'll love you for it.
2. Cloud Nine Wand $350
Depending where on the sizeable wand you wind the hair you will get a loose or tighter curl, using one of three temperature settings. The ceramic barrel's "trade secret" ingredient reduces static and is said to impart added shine and lustre to hair. My experience of the Cloud Nine styler is that its plate coating is easier on the hair than many others, so I'd be confident that the Wand, which I've only tested briefly, would prove reliable as it has similar advanced design features.
3. Via Curling Iron $120
Smart looking device with easy-grip cool-tip rubber end and digital display for fine, medium, thick and coarse hair. In-built extras include a safety shut off, a stand and a long swivel cord. The star feature is its ceramic and tourmaline barrel, a coating to help seal the hair cuticle and repel humidity. The barrel width means curls have a healthy bounce rather than being tightly wound. It curbed my curl for a natural look, but if you are after a tight curl this isn't the one.
4. Remington Styles Unlimited $129.95
Ingenious two-in-one tool combines the benefits of a straightener and a wand. Both functions are effective, but if you lean to one type buy a specialty device. This gives cost-effective variety, but mind the metal barrel gets sizzling hot and the end grip is small. A small clips locks the plates into wand mode or for storage. I found it easier to use on someone else, but could still manage, in virtually one movement, to do a smoothing pass with the blade then wind the hair up for a end curl.
5. Ghd Gold Mini Styler $319
The name is a misnomer, this is not a mini version of ghd's full-sized styler, rather it has thinner plates than the Gold Series Classic styler, whereas the same-priced Gold Max is wider. All feature gloss-finish ceramic plates to glide through hair and a curved barrel for versatility. Quickly reaches a fixed temperature setting and has a universal adapter, safety shutdown and heat guard. Ghds extend their appeal with limited edition colours and designs - the latest has scarlet plates.
6. Kevin Murphy Wave Clip $6.99 each
You'll need a few clips to clamp down your lengths for 70s-style undulation. Pop a hairnet over the top and dry off with a diffuser. This may sound nana, but the tip came from Kevin Murphy himself who swears by nets to deter frizz.
7. Via styling clips $9.99
These matte-black rubberised clips also come cheaper in plastic and are an essential item for any home hair stylist. Pin up the top layers and dry and style in sections from underneath.
Top tips
I'm rather lazy at styling my hair at home, so I've been asking for advice on getting a better result. Here's a few pointers.
* To fight frizz, finish your blowdry on the cool cycle, this helps close the hair cuticle.
* Don't be tempted to apply hot straighteners or curling wands on to wet hair, blow or air dry it first.
* Don't snap and tug with your straighteners, gently does it. Use a heat protection product and the right setting for your hair type.
* Get a hands-on lesson on how best to wield your dryer or hair tool. (Stylists should be happy to help, it makes their cut look better).
* Ensure your hair and scalp is in optimum condition to give the best possible results for your home-styling efforts. Trim ends and use a moisturising mask when hair seems dehydrated.
* For those with natural wave or curl, use fingers, rather than a fine comb to separate towel dried hair. (This allows hair to fall into place rather than breaking up the curl, potentially causing frizz to form which then requires more taming). Try sleeping on damp hair. In the morning just lift the curl a little or work in a texturising product.
* For those with straight hair left to its own devices to dry, add a little styling serum or moisturising oil as a sleek finishing touch. (Ask your hairdresser to recommend the right product so you do not end up with something too heavy for your hair).
* If all else fails, look forward to summer when styles suit a bit of wash-and-wear movement.
Stockists: Remington from leading electrical retailers, ph 0800 736 776 for stockist details. Via, ghd, Cloud Nine and Kevin Murphy from selected salons and specialty hair stores: Via ph 0800 787 456, ghd ph 0800 424 74, Cloud Nine 0800 252 530 and Kevin Murphy ph (09) 525 1075.