Wendyl Nissen tunes into the rugby.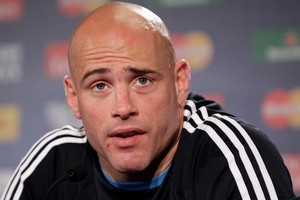 If it hadn't been for Argentina I would never have sat down last Sunday and watched my first rugby game for 33 years. I have resisted all attempts to persuade me, even those by a friend who is the most devoted rugby fan I know. But the Argentinian rugby team and I had a special bond which started one Friday evening in Wellington.
I was walking past a hotel on my way to find something for dinner with my husband when my keen eyes spotted a very good looking man in white shorts and a baby-blue shirt. He was soon joined by another very good-looking man in the same outfit. As I watched in awe, more and more of them emerged from the hotel foyer and stood amiably, lapping up every good-looking ray there was to be had that evening.
"Just a minute," I said to my husband, trying to slow him down. "I've just seen something."
Normally this would be a must-have dress in a shop window but this evening it was a gathering of Pumas.
"Come on," he moaned. "We'll be late for the car ferry at this rate."
I moved my legs but my eyes remained pinned on the dark swarthy looks of about 20-odd Argentinian beefcakes.
"In the 16 years I've known you, I've never seen you walk backwards before," observed my husband, as I stumbled over a curb and was only saved from plunging headlong into a flax bush by his timely intervention.
From that moment on, I developed an unhealthy interest in the Pumas and got very excited the day I discovered the captain was a surgeon. Intelligence and brawn is such a rare combination.
There was nothing for it but a takeover of the remote last Sunday, which registered only the briefest surprise at being instructed to pull up some sports programming.
We were one of the few Sky subscribers to specifically request that we don't get the sports channels when we signed up.
"You're pulling my leg," the disbelieving bloke had said on the end of the Sky subscriber line.
"No, not at all," I had replied in my prim Grey Lynn voice. "Some people particularly enjoy the Arts channel."
Fortunately, the game between the Pumas and the All Blacks was free to air, so we settled in to watch.
"Shouldn't we be drinking beer and eating potato chips?" I asked my husband, who spent most of the game ostensibly reading a book.
"No, we've had dinner," he said, frustratingly practical.
"Perhaps we should have dressed up a bit. You in black and white and me in baby blue and lots of face paint and funny wigs?"
"Just watch the game."
And so I did.
What I saw consisted of 30 men falling on top of each other in a wriggling heap until a ball was miraculously birthed and then someone took a few steps with it and everyone fell into a heap again.
And then I heard the panic in the voices of the commentators as they suggested that the All Blacks might be struggling a little.
"I can't believe that the one game I sit down to watch in 33 years will turn out to be the one game in the RWC the All Blacks lose."
My husband looked grim over the top of his book. "If they lose, this country won't be worth living in. We would be well advised to go bush."
The next day I rang my friend, the rugby nut, ready to be congratulated on my newfound enthusiasm.
"Oh, you didn't watch that game, did you?" she moaned. "It was awful. I turned off halfway through."