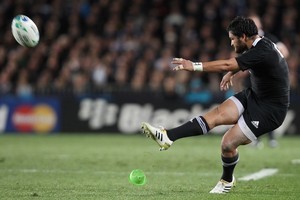 It's tough being a rugby novice five weeks into a Rugby World Cup tournament.
Having made the decision to take an interest in the game for the first time in my life, I launched myself into the task with some enthusiasm last month, watching as many games as I could and bugging anyone within earshot to explain some aspect of play to me.
Things were going so well. I learnt about high tackles, playing advantage, scrums and - more recently - Richie McCaw's foot. Instead of groaning whenever it became apparent that what we'd be watching on TV that night was "the game", I found myself looking forward to each new clash. Namibia v Fiji? Why not? Ireland v Australia? Even better.
But then the quarter finalists were announced and it all came to an abrupt halt. With less teams remaining in the competition there were no longer games on most days and, quite astonishingly, I found myself missing the on-field action. My rugby education was losing momentum.
Perhaps though, the natural lengthening out of the knock-out process is part of the psychology of any tournament. I know it's only been a week since we farewelled Argentina and South Africa but it feels like an eternity. An eternity to reflect on the brilliance of Piri Weepu and to start worrying about tomorrow night's clash. I haven't had a sleepless night yet, but there's still time.
And if this is how I'm feeling, I can't imagine what the All Blacks are going through. Despite growing up in New Zealand and hearing rugby-this and All Blacks-that for the better part of 30 years, it wasn't until the night of the opening ceremony that I really got how big a deal this tournament is.
As I battled my way through the masses downtown on September 9 it finally dawned on me the pressure the All Blacks are under.
Yes, I'd seen the ads and heard the laments of Kiwi fans who'd been waiting since 1987 to see their national team hold the Webb Ellis Cup aloft once more, but it was the sheer number of people out and about that night which gave me pause. If even a small fraction of them were fervently wanting the All Blacks to perform well this tournament, it amounted to a heavy weight of expectation on the shoulders of the boys in black.
No wonder Weepu looked a tad shell shocked at yesterday's press conference; with other players perhaps more used to the constant limelight ruled out of this World Cup, all those fans were looking for a new hero last weekend and they found it in him.
As a newly-converted fan, I hope I'm not yet one-eyed enough to be among those adding undue pressure. It might not be exciting, but I've been trying to keep my expectations in check.
I was mildly amused, ahead of last weekend's games when I heard people predicting the likely semi-final match-ups.
Mostly, they went something like this: "I think South Africa's going to be a real threat, we'll have to pick up our game if we want to beat them," or "Australia haven't been up to much so far this tournament, I'd rather we play them in the semis".
At which point I'd usually interject with: "Assuming we beat Argentina..."
Needless to say my perfectly rational statement was invariably met with looks of pity, as if to say: "Poor dear, she doesn't have the foggiest what she's talking about."
And I probably don't, but I just feel a bit nervous about getting too cocky when it comes to predicting All Blacks victories.
I did feel somewhat better about my pre-quarter final caution when, with 20 minutes to play in the All Blacks v Argentina game, my ashen-faced husband piped up: "We might actually lose this game," as if it was the first time it had dawned on him as a possibility.
Luckily, the boys pulled it out of the bag during the last 15 minutes of the match, setting up tomorrow night's Transtasman clash.
The whole thing did get me thinking though. Can I call myself a true fan if I'm realistic about our chances rather than just blindly optimistic?
It turns out I probably can.
Earlier this week I overheard one colleague, who shall remain nameless for their own safety, pondering betting on the Wallabies to win tomorrow night's game.
If the All Blacks can't deliver a win, they reasoned, "when I come in on Monday I'll be gutted, but at least I'll have $340".