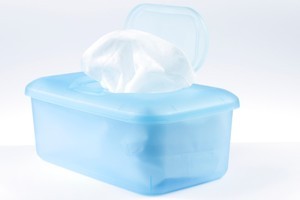 Some brands of baby wipes were recently removed from supermarket shelves when it was discovered they contained the restricted preservative iodopropynyl butylcarbamate. Understandably parents are fuming to learn they've been wiping precious bottoms with potentially harmful chemicals.
Perhaps it's a timely reminder that a little cynicism goes a long way when determining what products we should purchase, bring into our homes and use on our children.
Marketers, whose core purpose is to get us to consume more, are adept at creating needs from wants and conjuring wants out of thin air. While environmentalists say we should pare down our lives and make do with less, corporations are continually urging us to buy more stuff.
Baby wipes are a great example of a solution to a problem that never really existed.
Somehow the manufacturers convinced legions of parents that pre-moistened, chemical-laden wipes were preferable to an old-fashioned muslin cloth and water.
It's pitched as a convenient option but the convenience factor only lasts as long as your baby doesn't have a skin reaction requiring medical attention. The only bottom these wipes are really helping is the bottom line of the manufacturer and retailer.
Supermarket shelves host an array of products we never knew we needed, dreamed up to solve problems we never knew we had.
Has your dishwasher got bad breath? Well, perhaps it needs a so-called freshener for "lemon and lime freshness between washes".
Does your sofa smell? Maybe it's time to buy a spray to "safely clean away" odours.
Never mind the fact that observing a few household rules - such as keeping pets, food, drink, cigarettes and outside shoes away from the sofa - would keep it in tip-top condition naturally.
Yet it's easy to be lulled into a sense of security and forget that those cheerful advertisements and bright packaging are really masking a single-minded corporate need for sales, turnover and profit.
Making us guilty about the standard of our housekeeping and baby-care routines is just one way of parting us from our money.
Canadian law professor Joel Bakan's 2004 book The Corporation: The Pathological Pursuit of Profit and Power explored the dark side of companies and how their focus on returns to shareholders comes at a cost to other stakeholders such as the consumer and the environment.
Bakan discovered that a corporation possesses the attributes of a psychopath including egocentricity and lack of empathy. In short: if companies were human they'd be diagnosed with a personality disorder.
In his 2006 book The Omnivore's Dilemma Michael Pollan gave a chilling example about how what we eat is driven by the imperatives of commerce at the expense of human health.
When American farmers produced a surplus of corn it was refined into high-fructose corn syrup; HFCS is a sweetener that became widely used in packaged foods including soft drinks, snacks, sauces, mustard, bread, cereal, relish and crackers. The unwitting public were used to consume (literally) this inconvenient glut of corn. Such rampant use of HFCS has been linked to the "obesity epidemic" in the US today.
Website ewg.org/skindeep has a database of 65,000 cosmetic items which are analysed and rated as low, moderate or high hazard.
Huggies Baby Wipes (cucumber and green tea) are given a high hazard rating for concerns such as endocrine disruption and skin irritations. The Kérastase shampoo and Clinique moisturiser I use scored moderately on the hazard scale. It's enough to make you want to cease all washing and beauty routines.
Ideally we'd use only personal items rated low hazard. Unfortunately many of the products deemed least harmful by this database are obscure and not always stocked locally.
As a result of earlier online research I went to a US website and ordered and paid for three tubes of the safest sunscreen available. That was two summers ago and I'm still waiting for delivery. Trying to avoid toxicity isn't easy.