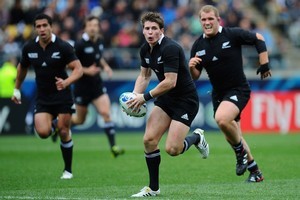 "Well," came a voice from the living room, "that's the World Cup over."
I poked my head around the corner, wondering what could have prompted my usually optimistic other half to issue such a statement.
Ah yes, Dan Carter's tournament-ending groin injury.
I'd heard about this development on the radio as I was driving back from the supermarket and, while it registered, it wasn't enough to make me slam on the brakes and start sobbing into the steering wheel.
But as the days have worn on I've been astounded, once again, at how quickly the mood of this nation can alter when one of our sporting heroes is injured - surely an inevitability in their line of work.
With all due respect to Carter - he is but one player.
Leaving aside for a moment his undoubted heartbreak, I couldn't help wondering how his team mates must be feeling as a goodly number of commentators - and members of the public in general - began to write off the All Blacks' chance of victory the moment news of his exclusion broke.
It's easy, when a particular player excels time and time again, to put them on a pedestal, but in the case of team sports, where injuries are commonplace, it's also a dangerous game.
Every single member of the current All Blacks squad will have made their own sacrifices to be where they are today and they deserve recognition for that.
How galling must it be for those other players, all of whom have been training hard for months (and all of whom would likely be held responsible by the public should they be knocked out of the tournament prematurely), to not only lose a valued team member, but to then have it implied that without said team member, they may as well give up?
If we really want to see New Zealand in possession of the Webb Ellis Cup come October 23rd, it's the team as a whole that needs fan support, not just individual players.
Aside from the All Blacks' injury woes, the talking point which has really captured my attention over the past week is the pool game schedule.
Being unfamiliar with the usual ways of these things I had, nonetheless, asked my husband during the first week of the tournament why it was necessary for the All Blacks to have a week between each of their tests.
He explained that the physicality of the game meant the players needed a decent amount of rest and recovery time between each clash. I accepted this, though it did give me pause to wonder how tough these legendary sports stars really were if they couldn't handle more than one game a week.
Not as tough, apparently, as players from Canada, Scotland, Georgia, Romania, the USA, Namibia, and Samoa, all of whose pool play schedules saw their teams faced with at least one occurrence where they had just three days between games.
I gather it was difficult to create a draw allowing all teams a week's break between games without having the tournament stretch on indefinitely, but fair's fair.
If anything, the so-called minnow teams should be given more recovery time between matches than the rugby heavyweights.
Scotland's team doctor, James Robson, told the Associated Press last week that he had been observing test rugby for 20 years and believed it took "at least four days to recover from the rigors of an international test match".
If that's the case, why not make the standard break between games five days - no more, no less - and stick to it for all teams?
The most important thing in any tournament is that it is seen to be fair and I just can't see how the pool game draw could claim to have been that.
As for the other controversies this past week, of which much has been written already, I can only hope that this Rugby World Cup is remembered by the Pacific nations more for Tonga's triumphant win over France than for some trifling matter of a non-regulation mouthguard; and that France, in turn, will teach the English ball-switchers a decisive lesson come the quarter finals.