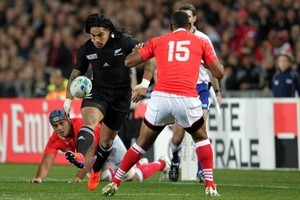 One of the hardest things about not having been a rugby fan has been missing out on the collective conversations this country has whenever a big game crops up.
Last week, for instance, discussion raged over whether All Blacks coach Graham Henry had made the right choice in picking Israel Dagg over Mils Muliaina for the team's clash with France.
Seeing as I don't yet know my hooker from my fullback, I was unable to contribute anything meaningful to the debate, though, having watched the long-awaited "rematch" on Saturday (apparently something unspeakable occurred in Cardiff a few years back), I thought Dagg played brilliantly.
There is one aspect of play I have developed an opinion on over the course of the last week however and it came to the fore during the All Blacks v France game.
Seizing upon my new-found enthusiasm for rugby, my husband suggested on Saturday afternoon that we invite some people over to watch the test.
Never having hosted a rugby viewing before, I figured I'd better try and make the place look a bit festive so I taped the Herald poster produced in honour of Richie McCaw's 100th test to the living room door.
My mother-in-law, who I've since discovered is probably the most knowledgeable person on rugby-related matters in my inner circle, went one better, sporting a black plastic head wreath.
By the time kick-off rolled around there were 12 people packed into our little lounge, including my parents. Those who have been reading this blog from the outset will recall that my mother was as clueless as I when it came to New Zealand's national game.
Well, what a difference a few weeks makes.
I'm not certain whether it's my recent rugby education that's inspired her, or the fact she wants to be a part of the festive fever, but she's bought silver fern flags for her car and announced to the assembled watchers on Saturday night that she'd Googled her birth country's IRB world ranking.
If there's a push to see Switzerland qualify for the next Rugby World Cup, you'll know who to blame.
So there we were, the whanau gathered for a sporting feast, and all was going well. I was yelling in all the right places.
But then someone decided to kick the ball. I can't even remember who it was but it was enough to split the room down gender lines.
"What are you doing?" my mother-in-law asked the television.
Aha, I thought. Vindication.
A few days earlier, my husband and I'd had our first real debate about rugby.
"Why would a team give the ball away when they've got control of it?" I asked as the game we were watching appeared briefly to morph into a soccer match.
"Because they might be able to gain some territory," he explained.
While I can see that might be a desirable goal, I must say my instinct, if I had the ball, would be to hold onto it for dear life and make as much headway as possible.
Perhaps if I was right on the opposition's try line I would try and kick it clear, but it really would be a last resort to stop the opposition from scoring.
My husband wasn't having a bar of it. Trying fruitlessly to break through the opposition line was far more dangerous than booting the ball and potentially gaining metres of territory, he said.
We'd agreed to disagree, so you can imagine my delight when I sensed on Saturday night that I had an ally in this matter. Two, in fact. Having never watched a rugby game in her life until a few weeks ago, Mum nevertheless had firm views on this issue: "It's a bit risky," she ventured.
And perhaps she'd got to the heart of the matter in that statement.
I guess women are generally the more risk averse sex, which explains why the men in the room rolled their eyes as the three of us discussed the merits of sticking to your guns and gaining territory through brute force.
As it transpired, it didn't really matter. The All Blacks managed a decisive 37-17 victory... but it remains to be seen whether risk taking or playing it safe will be the formula for winning this World Cup.