If you fancy having a gazebo to lounge under, why not make a fale as a nod to our Pacific neighbours, writes Justin Newcombe.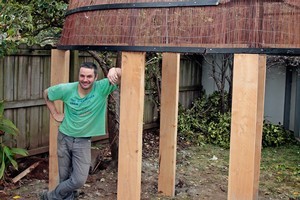 After seeing all the flags of the different nations involved in the Rugby World Cup adorn everything it occurred to me just what a diverse community we live in. One group of nations stands out from the rest and that is the Pacific Islands. Everywhere I turn I see the flags of Tonga, Samoa and Fiji. I think it would be fair to say this is not only a New Zealand event but a Pasifika event: I got so excited I decided to build a fale. These are very beautiful buildings with low hips to keep out the sun but a high ceiling to give plenty of room inside. The thing I like most about these buildings is that they are all curved. The thing I don't like is that you have to really work hard to get those curves. In saying that, the method I've chosen here is relatively easy to do and only requires a rudimentary knowledge of carpentry (nice big tick in that box). This is really a two-weekend project - making the roof one weekend, and erecting the fale the next.
I built hollow beams out of plywood so that I could set up my shape on the workshop floor, make any adjustments and then manufacture the pieces required.
Unlike laminated beams there is no spring-back to account for. Or you could glue solid timber together, then cut-out the shapes required. The advantage the hollow beams have over the solid method is they are so light to handle during assembly.
It's important to use strong glue. I went for a two pot, epoxy construction adhesive from Bunnings.
I built the curves out of 12mm ply but where some of the curves were too tight, I used three layers of 4mm ply instead. The final depth of my hollow beam is 48mm as I used two blocks of ply as a packer between my cut-out pieces. Where you are placing a screw or join, the beam needs to be solid, so plan out the placement of the packers when you are gluing.
Step 1
Mark out your shapes and draw on to a piece of ply. Making a template out of thin MDF will give you exactly the same curve for each piece (later on I'd wished that I'd taken the time to do this).
Step 2
Cut out all your roof pieces. I made two bottom plates which go on the posts, two beams which rise from each end to the middle and a pair of rafters which rise from the sides and sit under the beam, filled in with ribs.
Step 3
Cut packers to go between each curved shape. Space them out and glue them to the bottom wall, then glue and place the top wall. Don't be too zealous with your clamping, just make sure there is good contact, as too much pressure will starve the joint of glue and make for a weak bond.
Step 4
Cut a series of 50mm strips out of ply for the top and bottom sections. For tight radius curves, layers of four 4mm ply may be necessary. Make sure each layer is completely covered in glue. Once the shape is formed, sand and paint with at least four coats of paint.
Step 5
To erect the fale, set the roof out on the ground and mark out where the posts should go. Dig holes and insert the posts. I used 100mm x 200mm sleepers from Bunnings. A spacer made out of boxing helps set the posts at exactly the right distance apart. Level and trim posts.
Step 6
Assemble the roof base plate section on top of the posts. Screw together using coach screws. Attach to the posts using coach screws and galvanized brackets. Add horizontal ribs to support the roof covering. If you want more shade in your fale, line it with mulch cloth and top with light brushsticks.