There's a new edgy, sometimes cloak and dagger, way to eat out. Virgil Evetts explains the concept and the buzz.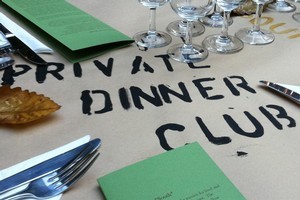 I'm done with you Slow Food. And as for you, Molecular Gastronomy, with your impossible spheres and freeze-dried emulsions, I just don't like you anymore. I have a new love now - the Pop-Up dinner.
The pop-up concept is thought to have originated in New York. People from all walks of life host themed dinners in all sorts of unlikely places - which could mean anywhere from a loft apartment to a burnt-out church. They are generally non-profit affairs charging diners only enough to break even. Menus are designed and delivered by enthusiastic cooks, as opposed to professional chefs, and all advertising is either by word of mouth or through social networking sites.
The movement often violates a wide range of civic regulations and by-laws, so by necessity tends to operate under the radar. Although in most cases all comers are welcome, you might have do some serious Facebook trawling to find out about them.
"Claire", a pop-up host and regular attendee, got into running pop-up dinners by accident, when her idea for a book club about food didn't quite pan out.
"It sort of morphed into something different - more about me cooking - and it became viral on Facebook through friends of friends". Today she describes the evenings held by her ever-expanding circle of pop-up friends as "an antidote to the normal restaurant experience... it's more like a dinner party, but with people you don't know - yet".
There is a degree of risk with these dinners - most obviously that you may attract the attention of the authorities (who will not look favourably upon your charging for food and drink without licences and a registered kitchen), but also because you may be inviting relative strangers into your home. "Claire" says she's not had problems in this regard, but advises common sense. "Facebook lets you screen people to a certain extent, but you still need to careful - it's really more about getting a good balance of ages and backgrounds to keep things interesting."
I can't tell you "Claire's" real name, or how to find her, but considering how small New Zealand is, you are probably only a few Facebook friends away from her or others in the scene. The detective work is really half the fun.
The Pop-Up movement has also given rise to a number of legitimate businesses which follow a similar philosophy, but deliver the goods within the law. Although not quite as cloak-and dagger hip as their underground progenitors, these still offer a very different night out and are much easier to find.
Gourmet-A-Go-Go is the brain-child of seasoned devotees of good food and ambience, Grant Allen and Jono Lousich, and draws strong influence from the pop-up ideology. One winter event, billed as "Industrial French Bistro", was held at Vitrine European Antique, Art and Industrial Furniture's showroom, a too-cool-for-school warehouse space in Grey Lynn, crammed full of gorgeous things. The combination of superb food, killer atmosphere and great live music made for a truly first-class event, happening or whatever you want to call it, and something quite distinct from an ordinary meal out.
Another child of the movement, Private Dinner Club, is run by former Masterchef contestant and Gourmet Safaris entrepreneur, Emma McDonald. Her kick-off soiree was held in a bar down on Fort St - a part of town nice girls and boys avoid after dark. Pushing comfort zones is a hallmark of the pop-up scene, and by middleclass standards this was pretty edgy stuff.
One attendee nicely summed up the popularity of such events: "no matter how good the food or service is, a restaurant is still a restaurant and it gets kind of boring and repetitive after a while".
Joining the club
Gourmet-a-go-go and Private Dinner Club events are advertised through Facebook pages, and bookings arranged via email.
Email: gourmetagogo@gmail.com. Next event is in November.
Email: info@gourmetsafaris.co.nz. Next event is in a Newton garage on Sat October 29.