Tracy and Mike Church clock up hundreds of kilometres driving four sons to various sports events, but Tracy tells Dionne Christian it's always nice to retreat to their slice of rural paradise in south Auckland.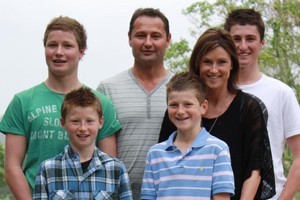 We moved down here 11 years ago when Ryan was just two weeks old. We already had two boys Liam, who's now 16, and Hayden, who is 13, and figured three acres would give the boys a bit of space to move around, ride bikes and climb trees. A year later, our youngest son Cameron, who's nine now, was born so it was great to have the extra room.
The Ardmore/Clevedon area is rural and tranquil, but there's also the opportunity to take part in a range of country and outdoor activities at the same time as being close enough to town not to feel as if you're totally stuck out in the wop wops.
It's a friendly community with a village feel, where people know one another and help each other out, and there's always something happening. The roads are great for cycling and it's also close to the coast which suits us because the boys enjoy boating and fishing.
The boys are all very involved in sport and they all swim. Liam cycles and does triathlons; Hayden is a competitive swimmer at the Howick Pakuranga Swimming Club, which he takes very seriously.
This requires a lot of early morning and after school trainings.
The younger boys, Ryan, who's 11 now, and Cameron play for the Ardmore Marist Rugby and Sports Club plus a local team made up of girls and boys, brothers and sisters, called the Wairoa Rangers. It's fun and social - and that's a big part of why we stay here, too.
Ardmore School, where I started teaching when Cameron was four, has also kept us here. It's a great school, a focal point for the community and all our boys have gone through or are at the school. Grant Barnes, the principal, used to be my teacher when I was at Mellons Bay School so that was quite a coincidence.
Its annual Agricultural Day is a huge part of the school calendar. Because they're surrounded by farms and fields, Ag Day helps teach kids about the environment they're in and reminds them how important our farming heritage is. It's also a great chance for them to learn about raising and caring for animals and, more recently, growing their own mini-gardens.
Our boys started raising lambs, then goats but they've mainly done calves. It gives them a chance to be responsible for something. It's their thing and I leave them to do the feeding.
Ag Day is the school's main fundraiser, so as well as being able to look at all the animals and garden displays, there are gala games, amazing cake and food stalls, bouncy castles, auctions and raffles, book and craft stalls and the most amazing second-hand clothing stall.
This year, the school is getting behind the All Blacks for the Rugby World Cup so the whole day has been themed "celebrate Kiwi Country Living - and go the All Blacks". I think we're all dressing in black and white, which is very appropriate given the All Blacks play France in the evening.
There are times - with all the travelling and the early starts - when we think we should move closer to the swimming club but whenever we discuss it, we just end up realising how good we have it out here. We won't move because we would lose too much."
Tracy and Mike's picks:
Ardmore Airport Cafe: Hearty cafe food with a great view of the comings and goings at Ardmore Airport, 500 Harvard Lane, Ardmore, (09) 298 4846.
Ciao Bella Kitchen & Store: Great coffee, baked goods and lunches as well as a range of fresh produce, European speciality goods and fine wines. Open daily 7am-6pm at 439 Papakura-Clevedon Rd, (09) 292 9229.
Clevedon Cafe: During the day, the cafe serves breakfast and lunch while in the evening it offers a full restaurant menu. 1 North Rd, Clevedon, (09) 292 8111.
Clevedon Hotel: The Wairoa Restaurant & Bar is great for meals or, during the day, you can stop off for a drink in the garden bar. It also offers accommodation. 26 Clevedon
Kawakawa Rd, Clevedon, (09) 292 8783.
Animal instincts
Ardmore School's Agricultural Day is on Saturday, 24 September from 10.30am-2.30pm. The school is on the Papakura-Clevedon Rd, Ardmore. EFTPOS available.