Time for grenache to come out from under cover.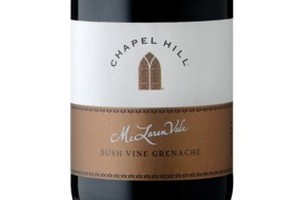 This Friday, grenache producers around the globe are hoping you'll raise a glass or two of their chosen grape on International Grenache Day. With exciting examples now emanating from around the world, the time is ripe to celebrate this unsung hero of the Rhone blend, rioja and the G in the GSM.
It's actually one of the word's most widely planted red varieties, and the most popular vine in the vineyards of Spain, from which it likely originates and where it's known as garnacha. It could be the case that it's just been too common to be cool.
However, one of the main issues that has held it back is the supporting role it's been perceived to play in many of the wines in which it appears. In rioja, tempranillo is widely regarded the star, while in the wines of the Languedoc and Southern Rhone - such as chateauneuf-du-pape - as well as Rhone and"GSM" blends of the US and Australia, it can get lost in the mix with cohorts such as syrah and mourvedre (known as shiraz and mataro in Australia).
Grown badly, grenache can be rustic and unremarkable: light in flavour, structure and colour and high in alcohol. But when treated properly in the warm regions to which it's suited, it can have real depth, complexity and spicy allure, something that's been highlighted by the recent rise of Spain's priorat, where it dominates. Here its appealing characters have been further concentrated by the region's older bush vines, resulting in some of the most excitingly intense examples of the variety.
Here in New Zealand it's never taken off, largely as we're on the cooler side of the grape-growing spectrum and consequently find it difficult to ripen. However the grape has been at large in our vineyards for some years.
Paul Mitchell - who now runs Wine Importer and brings French grenache into NZ - gave the grape a go in his Rabbit Ridge vineyard in the late eighties, although none was ever made as a single varietal wine.
"I was told these were the last grenache vines in NZ, originally coming from Tom MacDonald's Church Rd vineyard, where rumour has it, a good dollop went into his early cabernets to increase their alcohols!" Mitchell recalls.
Matua Valley is another winery that's worked with the variety, which now goes into its impressive Hawkes Bay Matheson grenache syrah viognier blend. "It does require a lot of heat and patience to get it ripe and you cannot yield a good wine every year," acknowledges Matua Valley chief winemaker, Nikolai St George. "But what you get is purely varietal with a tannin structure more Italian than French."
Now Villa Maria has released a rare single variety grenache. "When we decided to plant, we chose the Gimblett Gravels site, because we knew we'd need a really warm location," explains Villa Maria chief winemaker, Alastair Maling. "As it is a challenge to grow in cooler areas, we rely on near-perfect growing conditions. We believe what was captured with the 2007 current release offers very typical grenache characteristics: proof that it is possible."
As we grow hardly any grenache and the fact its name appears on few labels, it's not a grape widely requested here. However, Wine Ambassador for drinks distributors, Hancocks Gavin Hubble thinks it's well suited to Kiwi tastes and cuisine.
"When ripe, grenache based wines can develop complex and intense notes of blackcurrants, black cherries, black olives, coffee, honey, leather, black pepper, spices and roasted nuts," he enthuses. "Something for everyone in one glass!"
Grenache in hand, I'll be drinking to that on Friday.
GRENACHES TO GET YOU GOING
OLD VINE INTENSITY
Armantes Old Bush Vine Calatayud Garnacha, Spain 2009 $17.99
Bush vines with an average age of 50 years have doubtless contributed to the concentration of thus dense dark berry fruited and great value garnacha, with its hints of tobacco, herb and roasted spice. (From wine stores including the Fine Wine Delivery Company.)
NZ EXPRESSION
Villa Maria Reserve Gimblett Gravels Hawkes Bay Grenache 2007 $59.99
New Zealand's cool climes may not make warmth-loving grenache the most obvious grape to plant here, but this elegant, ripe example with its svelte dark berry fruit and seasoning of white pepper and spice, is proof that in a warmer site and season we have what it takes to make great grenache. (From Villa Maria Cellar Door, Mangere.)
A G WITHOUT THE S&M
Chapel Hill McLaren Vale Bush Vine Grenache, Australia 2008 $34.90
A gorgeous stand-alone grenache from Australia's warm McLaren Vale region packed with smooth and juicy bottled plum fruit over earthy spicy notes. (From Glengarry.)