Grab a spade to enrich your patch now for a bumper summer crop, says Meg Liptrot.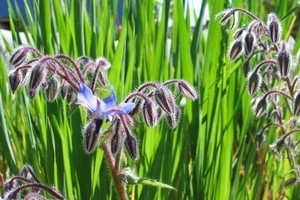 It's action stations in the garden this month. The ground is warming up, the sun is shining and when it's not, the rain is doing your watering for you. These are great growing conditions - and an ideal time to get your edible garden planted for a bounteous summer harvest.
As the ground warms, the minute life in the soil is activated; the macro and micro invertebrates are all ablaze in a good, humus-rich garden. That's humus rich in organic matter, not hummus from the Turkish cafe up the road.
Get your compost incorporated into the soil by digging it in to around a spade depth. Home-made compost is better as it is more alive than the super-cooked black commercial variety, but the latter is still good for building up organic matter and aerating your soil.
If you have a worm bin, vermicast (worm poo) can also be incorporated into the soil before planting but, as most worm farmers know, it is like black gold, so use judiciously. Vermicast can be turned into a thin slurry by adding water. Pour over loosened soil, then mulch with straw immediately to prevent the nutrients from evaporating.
You could also dig a little in as you plant each seedling. Mulching with non-woody organic matter is a key activity in the spring vege garden after incorporating compost and organic nutrients into the soil. Mulch keeps the soil protected and prevents weed seeds germinating.
Green "cover" crops sown in autumn, such as lupin, should be chopped up and dug into the soil just before flowering and allowed to break down for three weeks before planting your spring seedlings. They are a great source of nitrogen and protein for soil life, and will get nitrogen-loving veges growing well. Green crops also help to stabilise the soil and prevent leaching of nutrients over winter.
You may choose to dig in organic minerals from sources such as basalt rock dust.
Paramagnetic rock dust is the bee's knees, according to a Northland Polytech organics tutor I know. Dolomite or lime are worth adding after the rainy winter as the garden soil can become more acidic and, generally, veges prefer growing in neutral to slightly alkaline soil. Buttercup growing in your garden is a good indicator the soil is on the acid side. Dolomite also has magnesium in it, which is vital for chlorophyll formation and photosynthesis, and it is more gentle on the soil. It is a good idea to alternate between the two in the long term.
Seaweed is a wonderful micro-nutrient-rich addition to the soil, and can be incorporated into compost, or chopped up and dug straight into the garden. Asparagus, in particular, loves it. Picking up seaweed (not kelp) after a storm on the rocky areas of the east coast is a fun thing to do - I feel like I'm in the 70s film Storm Boy, or a character in the movie Secret of Roan Inish when I go seaweed collecting.
It's also a good use for all those extra pink recycled clothing bags that appear in the mailbox. I'm sure seaweed collection wasn't what the charity intended, but never mind. Just don't gather seaweed off the beach in a regional park like I accidentally did. You'll get your hand slapped.
SOW NOW
* Under cover, in pots for transplanting later: summer veges such as tomato, cucumber, zucchini, beans, leafy greens and herbs.
* Directly in the ground in well-prepared, crumbly soil: carrots, peas, beans, leaves for cutting such as mesclun salad, rocket, spinach, beetroot.
PLANT NOW
Veges:
* Potatoes (after "chitting" or sprouting) and tomatoes in frost-free areas.
* Sensitive plants like cucumber, zucchini, eggplant in garden under cloche for warmth.
* Pot small seedlings in larger pots in sunny sheltered position, or in glasshouse, if the weather and soil temperatures are too cold in your area for sensitive plants.
Fruit:
* It's not too late to divide strawberries and transplant around the garden for Christmas harvest.
* Plant berry fruit such as thornless blackberry and boysenberry for first summer fruit.
* Last chance to plant deciduous fruit trees.
* Subtropical vines and fruit trees okay to plant now in frost-free areas.
* Meg Liptrot studied sustainable horticulture and is a garden designer specialising in organic edibles and natives.