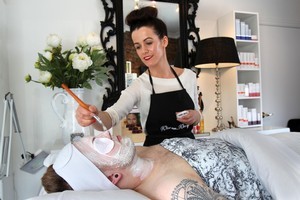 It's difficult to recall just where it began. Was it when David Beckham stepped out in a sarong? In New Zealand, perhaps it was when we witnessed Dan Carter's first waxed and oiled outing in his underpants. Or Ma'a Nonu's admission that he liked to wear makeup. However it started, the rise of the "metrosexual", a term coined in 1994 to describe a man with an almost obsessive interest in making himself look good, has transformed masculine identity and prompted some to ask, "where have all the real men gone?"
There was a time when you knew what to expect from men. For instance, you knew that former All Black Colin "Pinetree" Meads, former Labour Prime Minister "Big" Norm Kirk or blokeish author and poet Barry Crump would never get his chest waxed, not even for major surgery.
The idea that one of these blokes would opt for a "bro-zilian" (the eye-watering male equivalent of a Brazilian pubic wax) even if such a thing had existed in their day, is simply unthinkable. Yet these days, blokes are lining up for the treatment in their quest for bodily perfection.
Sources close to the All Blacks say facials, eyebrow shaping, waxing and relaxation massages are all staple treatments for team members. Not that anyone's complaining. In 10 years' time, a good number of women will remember exactly where they were when pin-up All Black Sonny Bill Williams tugged his ripped shirt over his head, revealing a taut, hairless torso rippling with biceps and abs during last week's Rugby World Cup opener.
Former All Black Grahame Thorne says the kind of full-time gym work needed to create a physique like that of Sonny Bill Williams was unheard of in the 1960s. "We never went to the gym. We weren't doing weights, we were doing interval training, push-ups and lift-ups. These guys today seem to be almost competing with each other. We got fit running around One Tree Hill and the farmers did it by working seven days a week on the farm."
Thorne laughs at reports of modern All Blacks waxing their bodies and having their eyebrows shaped. He says he and his team mates simply didn't think about their images. "Earle Kirton used to put aftershave on after the game, that's as far as it went. We used soap to wash our hair. We just never bothered with it. It was all about rugby."
But it's not just well-honed sports stars who are hitting the beauty therapy tables. Nicky Shore from Auckland's Off Wax Bar says eyebrow shaping and bro-zilian waxing are becoming increasingly popular and are her biggest growth areas.
"We have doubled the number of brow shapes and bro-zilians we do formen in a year." So who are these men? They must be models, right? Not at all, says Shore. "The reality is, your next door neighbour, your bank manager, your builder or your gym instructor could all get waxing services. There is no type of person who gets a wax or a bro-zilian - our clients genuinely come from all walks of life."
In the old days, admitting to using even the most basic facial moisturiser was cause for suspicion in the changing room. Now, it seems, men are willing to go to extraordinary lengths to attain the tanned, taut and hairless torso displayed by Cristiano Ronaldo or Rafael Nadal in the Armani ads.
In a survey undertaken by European electrical chain Dixons, one in eight men admitted to being unable to travel abroad without hair straighteners. One in five admitted to taking a hairdryer on holiday. The effect on our attitudes towards masculinity is profound, says Auckland fashionista Colin Mathura-Jeffree.
"Stereotypes have not only been challenged, they've been smashed to pieces. A real man will do what the bloody hell he wants." It seems the unlikeliest men are now going "metro". The formerly plump, booze-loving, skirt-chasing cricketer Shane Warne has been reborn - scaled down tanned up -and tweets about his favourite beauty products.
In a recent photo Warney, who once had a McDonald's burger named after him, appeared to be wearing makeup. Last week, his glamorous girlfriend Liz Hurley confirmed it, telling Easy Living magazine that the former hellraiser has been using her beauty lotions.
Bill Clinton, one of the most red-blooded of US presidents, stopped eating doughnuts and has apparently gone vegan. And Hugh Laurie, owner of one of the most lived-in faces on TV, has become an "ambassador" for cosmetic company L'Oreal.
Local retailers confirm that sales to men of products such as moisturisers, facial cleansers and fragrances are booming. "It's definitely on the increase," says Ashley Patia, assistant manager at The Body Shop's Queen St, Auckland, branch.
"It seems to be a growing trend. We find a lot ofmen now who are really comfortable talking about things like grooming. They aren't shy, they'll be very honest about it."
Patia says men are inspired by famously smooth faces, such as Patrick "McDreamy" Dempsey from Grey's Anatomy. Nandan Bhat, fragrance and skin consultant at Smith & Caughey in Queen St, agrees that men are spending more on their personal grooming.
"We're definitely noticing an increase in them buying skin products. The whole lot - cleansers, shaving products, moisturisers. We're seeing quite a lot of younger men just entering the workplace taking better care of their skin." Smith & Caughey offers in-store facials, which Bhat says are "very, very popular" with men. And Bhat agrees famous role models are having a "huge" influence on men's grooming habits.
"The media is portraying blokes who are into skin care and looking after themselves, like the All Blacks. Look at Clive Owen, he was a face for Lancome skin care and he's a very rugged Englishman. People see that and say, "if he can use it and still look manly, then so can I'."
Adrienne McDermid, beauty therapist and salon director at Beautypod in Ponsonby confirms there has been a definite increase in demand for what she terms "men's beauty care and maintenance". "Men's hair removal seems to have shown the greatest increase. Hair removal, usually chest and/or back wax and eyebrow shaping are usually the first requestwhenthe male first delves into the beauty world," she says.
"Kiwi males are generally a little sheepish when it comes to beauty care and maintenance. However I believe this resistance is slowly changing." So who are these pioneers of male pulchritude?
"One of my good male clients, who started with back and chest waxing, has now progressed to a full skin care and facial programme," says McDermid. "He's a director of a construction firm, loves to surf in his free time and is a father of three."
Other clients include investment bankers, a managing director of a burger chain, a supermarket owner, a professional boxer and the odd male teacher, she says. Using male role models, particularly sports stars, as marketing tools is one of the main reasons behind the rise in metrosexuality.
John Guthrie, a specialist in sports marketing from Otago University, says the use of players' images is highly influential.
"It's all about exposure-how many times a brand [is] being seen. The player is the vehicle and with a huge increase in spectator consumption of sport via the media it becomes a cost-effective way of communicating with a lot of people."
But why are supposedly macho rugby players portrayed in an often less than masculine way? "I suspect it is to do with the aesthetics of finely tuned athletes combined with the professional era," says Guthrie. "It's Adonis meets money."
However, if the message being promoted is that you can look like Carter or Beckham, grown men with apparently less body hair than pre-pubescent boys, the fact is-you can't. Not without some serious intervention. No pain, no gain. Nicky Shore says men are becoming more open about beauty treatments such as waxing.
"After all when men walk into a wax bar, people will know they are there for a wax. However, I think the difference is that unlike women, where word of mouth is the biggest driver, men tend to use Google to research rather than talk to their mates about where to get a wax."
Male grooming is now mainstream, she says. "I think today's men are more awareof the importance of grooming and more secure in their masculinity for it to be a normal part of their routine." "Looking like a Sasquatch on Takapuna Beach doesn't cut it any more," agrees Matt Swan from Mens Works Grooming Lounge. Swan applauds the increased interest shown by New Zealand men in their personal appearance. "Let's face it, your face is your business card. You just have to look better."
Mathura-Jeffree, a judge on New Zealand's Next Top Model, says he has always challenged the accepted notion of masculinity, and more men are doing the same."We want to look good to feel good as men. Also women and other people want us to look good and feel good. Masculinity is about being self-assured, powerful, strong with a secure sense of self. I look at a masculine man as one who looks immaculate, like the great lion in the pack, not the cringing, smelly hyena."
Of course, not everyone is a fan of all this preening and grooming. "I'm horrified by the sheer vanity of it," says comedian and raconteur Gary McCormick, relaxing at home with a beer after putting his twin daughters to bed and preparing to cook dinner. "We're losing all those lovely facial characteristics that we like. There are very few Brad Thorns left. If everyone wants to be Justin Bieber that's one thing, but this is a country based on rugged good looks. I couldn't see Colin Meads or Brian Lochore using moisturisers."
By its definition metrosexuality is an urban phenomenon and McCormick, who regularly tours rural towns, can't see it making any inroads to heartland New Zealand. "Certainly not. Never. Fortunately. When I go to these country towns you will never see someone using conditioner or facial products. It's most reassuring. You can always go back to the countryside to find out what you are really like."
And there will always be those diehards who will never change. Singer Neil Diamond will go into his third marrriage defiantly sporting a forest of chest of hair to offset his sequinned shirt. So, what do women think of the drift of menfolk towards the wellgroomed parklands of metrosexuality? Shore says the attitude of women is mostly positive. "Many of our female clients will comment about trying to get partners in to see us for some manscaping. However I think it depends on the person and their personal taste in men."
Adrienne McDermid is adamant that all men should be immaculately groomed, including "skin care, eyebrows shaped, nails manicured and hair removal, if even mildly hairy". But other women the Herald on Sunday spoke to had a range of views. Shop owner Sarah Wilkinson says she has no problem with men using moisturisers to combat the effects of ageing, "But when it comes to waxing and other gruesome things like that, I don't want to know about it. I like hair on a man. We have to have a point of difference."
Christine Parkinson says she likes a mixture of the traditional and the metro man, someone who uses moisturisers and wears colourful ties - "but I don't want him spending more time in the bathroom than me". Waxing isn't a turn off, "but shaved heads? Oooh, no. I don't like that look." Florist Lucy Rowsell says attitude counts more than how they look. "I think women want men to be really masculine - if he is more of a girl than you are, you don't feel very feminine next to him. The old-fashioned man's man is pretty hard to beat."
Man, I feel like a woman
Auckland hairdresser Kurt Counsell admits he spends a fair bit of time on his appearance each day. Counsell, 21, says his body-care regime includes twice-daily cleansing, toning and moisturising. He has a full facial every month-"not as often as I'd like"-and regularly uses anti-oxidant face masks. "They get the toxins out of your skin," he says. "I drink a lot of green tea as well."
Counsell shampoos and conditions his hair every day, using up to four products. He also gets his back waxed every three or four weeks and admits he is slightly obsessive. "It's definitely more than most guys would do. But it's not as bad as what women have to go through." He admits to an element of vanity but says he would be unhappy if he didn't do it. "I'm a hairdresser, so I need to portray a certain image. I have to feel good about myself -I mean, I spend all day in front of a mirror."
Originally from Christchurch, Counsell was unable to continue with his regular body treatments after the earthquake and says he felt "really dirty, very unclean". But despite the uber-groomed images promoted by role models such as the All Blacks, Counsell believes there's still a way to go before New Zealand society accepts conspicuous male grooming. "It's still not as accepted as people think it is. It doesn't mean that people are less of a man for looking after themselves. What's the point of having shitty skin and bad hair just because everyone thinks it's okay? It's a changing world, people just need to deal with it."
- Additional reporting The Daily Telegraph