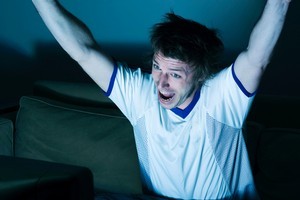 Two strange things happened to me last week. Firstly, I found myself sitting down on Saturday to watch not one, not two, but three Rugby World Cup games.
Secondly, I caught myself yelling at the television during one of said games.
Both of these things have only served to prove correct one of my colleagues, who delights in calling me a girly swot.
When I agreed to write this blog, the last thing I wanted was to become entangled in the fervour sweeping the nation, but it turns out it's quite hard to comment on a sports tournament you know very little about; hence the triumph of my inner swot and the beginning of my rugby education.
First up was Fiji v Namibia, during which I began my own campaign of pausing the coverage to ask questions every few minutes.
"Why has the ref. blown the whistle?"
"What's the difference between a maul and a ruck?"
"How does the off-side rule work?'
After about the sixth such interruption my husband - who had until then been patiently answering most of my queries - announced that I was "spoiling the game" for him.
Fair enough. I watched the remainder of the match in confused silence.
During the next game - France v Japan - I tried again.
"Who's the guy with the flag on the sideline?"
"The touch judge."
"What does he do?"
"He indicates where the line-out occurs after the ball's kicked to touch."
I became quite excited at this point and briefly entertained the possibility of becoming a touch judge myself. After all, I like flags and how hard could it possibly be to wave one around at the point where the ball crosses the sideline?
"You can't run fast enough," my beloved informed me.
"Oh, and the touch judge also has to make calls on other things sometimes to help the referee..."
This is typical of the sort of half-information I've always been fed when trying to get to grips with rugby's rules. And as I'm learning, there are a lot of rules.
Players can apparently be penalised for offences as flummoxing as 'not rolling away', being 'unbound at scrum' and 'joining ruck incorrectly'.
I have no idea what the protocol for joining a ruck correctly is, but I'd be delighted if someone could enlighten me.
For those wondering whether I've learnt anything at all during this first week of the tournament, I'm happy to report that I now understand - at least in its most basic form - the advantage rule and that I think I can identify when a player's offside.
I've also discovered I'm not immune to yelling at inanimate objects.
When Japan's James Arlidge headed for the try line for a second time at North Harbour Stadium, I momentarily forgot that I'd pulled France in the office sweepstake as I screamed at him to run. I may even have done a fist pump when he succeeded.
Why? I couldn't possibly tell you. My husband wasn't even in the room at the time. It was just me, the TV and a stadium full of cheering rugby fans.
Perhaps a friend overseas was right when she wrote on Facebook this week that it's a "fab game to watch" once the rules are learnt.
I'm not 100 per cent convinced yet... but there are still five weeks to go.
And I know a little knowledge is a dangerous thing, but I'm going to put my neck on the line here and say that I think the Welsh were robbed.