Learning the ropes in a Greenlane kitchen and gleaning ideas at a top London bistro have paid off for top Auckland restaurateur Judith Tabron. The force behind iconic eatery Soul tells Suzanne McFadden about her latest venture.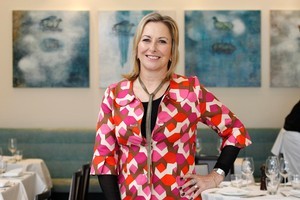 Judith Tabron sits in the back of a black London taxi, sobbing. She's had enough.
It's the early 1980s, and Tabron, barely in her 20s, is a young chef de partie at L'Escargot, arguably the hottest bistro restaurant in Soho. She feels a long way from home - Auckland, the city where she'll one day command the cuisine stage.
Right now, though, it's long hours, for low pay, in a demanding kitchen where 15 chefs hustle for space, the language gurgles up from the drainpipe and it's nothing to have the guys come up and rub themselves against you.
"They'll just think it is funny. And then you have to listen to their sexual exploits from the night before."
Often on her way home from work in the early hours of the morning, Tabron finds herself crying, "I don't want to do this anymore."
Then the next day she picks herself up and goes back to work. The reason for her resilience: she has a job to do. She has books to fill.
Although the girl from Onehunga High, one of New Zealand's first female chef apprentices, can't say she enjoyed her time in London, she knows how momentous a time it was in her career. It's a major reason why, after 10 years her Soul Bar & Bistro - the pulsating cornerstone of Auckland's Viaduct and hangout for the rich and famous - is still one of New Zealand's great restaurants. And why she's regarded by her peers as fearless, innovative and a survivor.
Two decades on, she still has the notebooks she handwrote during those days at L'Escargot. She often turns them, pages boiling over with recipes poached from some of London's top chefs, food ordering systems and tips on how to run a kitchen.
"Any time there were documents left lying around the kitchen that might give me the tools to manage better in the future, I picked them up. A lot of chefs in those days had their own little books, but they weren't shared," she says.
"I had six months on the pastry section, where I worked for a girl who'd worked at the Connaught and the Dorchester. She had her own book, and only the recipes she wanted us to cook at that time were in the kitchen. So I'd grab them and write them all down.
"It was a matter of constantly asking questions, then recording and keeping everything so I could use it when I got back to New Zealand to open my own business, which was always my intention."
And that's what she did: first making Ramses Bar and Grill one of the city's hippest dining spots, in the unlikely suburb of Newmarket, for nine years through the 1990s - and becoming one of the first women to run her own restaurant in Auckland; then following this with Soul in 2001.
A couple of months ago, Tabron - now mother of a teenage son - opened her L'Escargot desserts notebook and whipped up a rice pudding for her lawyer husband, Nigel Burton.
"I've been with my husband for 10 years and it was the first time he'd seem me make a rice pudding. He wanted it again, and again, till he was sick of it. Now it can go away for another 10 years," she says.
Unlike the guarded English chefs of the 80s, Tabron isn't afraid to share, or reveal what's in her Soul.
She's just written a cookbook with the help of her head chef, Gareth Stewart, and friend, food and wine writer Lauraine Jacobs, which divulges the secrets to some of Soul's most celebrated fare: Waikanae crab and prawn linguine, vodka potato salad, crispy pork belly with kumara and miso purée, even macaroni and cheese. It highlights Tabron's accent on seafood, which has permeated all of her restaurants - a legacy from long days and nights in London grappling crayfish, skinning eels and filleting fish.
"But there are still those who come in to Soul with hangovers who want their mac cheese," Tabron says. Despite the awards and enduring reputation for fine cuisine, Tabron prides herself on Soul's "balanced" menu.
"I like to see us as a popular restaurant; I'm not trying to find a niche somewhere. We're a big place and I want to be busy, so when people read the menu everyone has to find something they want to eat here," she says.
"I can assure you my mum will walk in the door and ask for fish and chips, and my father, before he died, would forever have the seafood chowder." Personally, Tabron would be content with a plate of vegetables.
She had to be convinced the book was a good idea. Stewart, the handsome chef from Hampshire, wrote out the recipes and packed the ingredients in a box for Jacobs, who drove to the test kitchen in her Omaha beach house and tweaked them to be "more accessible to the domestic goddess". Tabron's stepdaughter, Delaney - actress and publisher of No Magazine - guided her art direction.
The timing was right. November marks 10 years since Tabron moved into the "perfect corner" of the Viaduct Harbour, shielded from the wind but inviting in the west-setting sun on its terrace and a decade of dishing up inspiring fresh food - up to 500 plates a day - with a side of her renowned hospitality.
She took a gamble moving in here, when Aucklanders shunned the Viaduct as a place for tourists. It has more than paid off, now the locals have embraced the harbourside promenade of restaurants and bars.
This year could shape up to be one of the biggest for Soul, too, with its prime position in Party Central. Having been a spectator at the last two Rugby World Cups (Burton is a rugby nut), Tabron understands the impact the tournament can have on a city's hospitality scene.
She was in Paris during the 2007 tournament and "fell in love with this little cafe on the Left Bank that was booked out at nights, but didn't take lunch bookings. So I was the one who queued up on the street three days in a row because the food was so good," she says. "I wonder if it's possible to get a queue along the Viaduct? That would be cool."
Soul already has bookings for late afternoon lunches in September and October and Tabron is prepared to leave her doors open until 3am. She's using another kitchen, in the neighbouring Voyager Maritime Museum, to prepare dishes like homemade pasta.
"In my head, I'm hoping for a little bit more business than usual, but I'd be happy if we were just full," she says. "We're used to running Soul at that full level and I don't really like it when it's out of control. I don't like the staff to be under such undue pressure that the smiles come off their faces.
"There are a lot of new operators down here of the view that they will probably be able to pay off their businesses in those few short months. I'm not sure I feel that confident for them. Nothing's been happening in Auckland since the America's Cup, it's been stagnant. Really we need a bigger population in Auckland to have these places filled ever night of the week."
So how is it that Soul has been able to exceed Tabron's initial expectations every season for the last 10? Last year, still in the tide of the recession, Soul brought in its second-highest turnover yet.
Bill Ralston, who frequented Ramses during his TV3 days, says it's not just about the food. He wrote in the cookbook's foreword: "There has been a certain ambience in all of Judith's restaurants and this feeling is there today at Soul. That she has a passion for food is an understatement, and her enthusiasm and zest for life carries through not just in the food but also in the entire vibe of the place."
Tabron explains it using one of her many "Geraldism's" - named for her late father, accountant Gerald Hickey: "Keeping a business running us like rolling a tyre down the road - if you don't keep hitting it, it falls over."
"Always looking for a new trick, me," she says.
She benchmarks Soul's standards internationally, not locally. She travels overseas at least once a year, to a string of countries, to seek out new tastes, new directions. This year, she took Stewart and Geeling Ching, her long-time operations manager, to Melbourne, Los Angeles and Mexico.
"It was really interesting to see the food starting to meld a lot more there. I mean, there's always been Taco Bell in California, but we saw them starting to rework Mexican flavours into the top-end restaurants. Only they call it 'Latin influences'," Tabron laughs.
"We're not seeing a great deal of melding through the mainstream in New Zealand yet. We might have people of all different cultures working in our restaurants and kitchens, but at this stage we're still cooking our style in preference to melding into our general menu. It will probably be another generation before we start seeing that here."
The famous hanging gardens of Soul were cultivated from a trip to San Francisco, where Tabron spied floral baskets outside Peruvian seafood restaurant La Mar. Now 130 baskets tumble with red blooms on Soul's terrace, requiring a gardener to dead-head and prune every day. The flowers will be multicoloured for the Rugby World Cup.
She's constantly evolving the aura of Soul. The latest transformation is new chairs - 290 of them - at $800 a pop. When looking for a new head chef, Tabron went global and put her trust in a "young and exciting" English sous chef she figured could help make the step up to "world class".
"I can tell you, the first year was a struggle," Tabron says. "Initially Gareth just wasn't used to me. He thought as head chef everything he wanted to put on the menu would go on. We still battle over some things.
"But now, we travel overseas, we look at foods together a lot, and he's really developing an understanding of our philosophy, of where we feel comfortable in the market and where we want to be. It's about being popular.
"Geeling and I always say it's about the fun factor - Soul is a people place. I love to sit in a busy restaurant, everything works better when it's busy. I'm always 'Come on in! Want another chair? Well you'll have to sit on the corner of the table, because that's the only spot left'."
Ching gets it too. You could call her Tabron's business soulmate. They first worked together at Ramses and, a year into Soul's existence, Tabron asked Ching to join her again.
The two women take turns standing at "the pass" - the spot where the kitchen meets the front of house. "We've worked together for so long, that we naturally move around each other," Tabron says. Tabron is more likely to be the social butterfly, roaming around tables chatting with diners about their day and their food.
Ching - an actress and marathon runner, who was working as a waitress when David Bowie chose her for his China Girl video - says their partnership is akin to a marriage.
"Our relationship has lasted longer than both our first marriages, so that's something to be celebrated," Ching says. "We don't always see eye-to-eye, there are times when we get shitty with each other. But like any marriage, there's a lot of give and take. Judith has a lot of energy and ideas. Someone said innovation is there to push us, and I guess that's what she does for me. She travels constantly, so she's always bringing back at least one new idea, if not 100.
"I don't think she's afraid of anything or anybody. There must have been a lot of competition between the five kids in her family, because she certainly knows how to fend for herself and get what she needs. There's a fearlessness and constant striving for what's new that she can bring to the game."
Growing up in a Catholic household of seven in suburban Auckland, it was Tabron's job to put the family dinner on from an early age.
"I was always a Girl Guide, and I particularly liked the cooking competitions against the Scouts. I'm not sure if it was the cooking or the Scouts," she says.
It was at a careers evening at Onehunga High where her future was unknowingly decided for her. That night she looked at the army, a food science degree at Otago University and ended up chatting to the food manager at the Logan Park Hotel in Greenlane.
"He said I could come in and chat to the chef, but I didn't realise it was for an interview," Tabron says. She walked in and scored herself an apprenticeship - becoming one of the first women chef apprentices in the country.
It was an ideal start, learning from a chef who had trained at the Savoy in London in the techniques of legendary French chef Georges Escoffier. "I learned really good basics - how a kitchen works, and how to do everything from a cocktail party to buffet and a la carte. There were black tie events with male waiters with white gloves. Billy T. James used to perform on Sunday nights, while I'd be carving out on the buffet."
So was sexism rife in the kitchen for a 16-year-old in a sea of knife-wielding men? "No one was going to do anything for me because 'equal pay for equal work' was going on right then and there. You could get someone to help you lift a pot, but on the whole they weren't used to having a female apprentice in the kitchen, so they often quoted it at me," she says.
"The language was always bad. I'd come home and my mother would say 'keep tour kitchen language out of this house'."
These days Tabron has at least six apprentices working at Soul at any time, including front of house.
"It's in our best interests because we get longevity and commitment in return. And the young ones give us the backbone to our staff structure."
At peak times, there are 100 staff, among them Tabron's son, 17-year-old Jack, and her stepdaughter, Amy Burton, who's doing an on-the-job diploma in hospitality management.
Jack is still at high school but his passion is design. He's learning to cook and has picked up his mother's knack for sourcing the best ingredients.
Tabron admits she's struggled at times being a working parent. "You're forever feeling torn between your two biggest commitments, that you're underachieving in both areas," she says. "I just want Jack to enjoy life, as I've done. I've been to the best parties."
The question has to be asked: has Tabron considered opening a Soul sister? Ching tries to convince her that Soul San Francisco, or maybe Soul Sydney, have a good ring to them.
"People offer me beautiful positions all the time. But do you think I want to open a new business in a World Cup year? I've got to keep my fingers on the pulse for my punters," Tabron says. "Have I considered it? Very much so. I have lots of ideas, especially after I travel. Splitting the same business concerns me, but then I look at others with loads of businesses. I'm not sure whether I'm the lazy one? But maybe one day I will."
The Soul Cookbook by Judith Tabron (Random House $60) is out now.