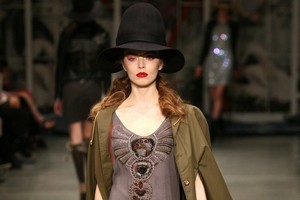 Trelise Cooper's fashion presentation opened tonight with her diffusion line Cooper, set to the backdrop of the all-American frontier, with models striding out in oversized brimmed hats and a lot of attitude.
Declared by the Cooper team as 'American Prairie Couture' the collection focused on a strong denim story of washed out denim jackets and jeans; stars and stripes motifs, as well as silk blouses and chunky knits.
It was also good to see a designer utilise corduroy with wide leg corduroy trousers making a statement at the show.
Although these new frontier/Americana references are not new (think John Galliano Fall 2006, or the majority of Ralph Lauren's archive), Cooper has managed to create a story that's relevant to her customer.
By considering a high-low mix with her outfits tonight (denim jackets worn with sequin dresses for example), Cooper is able to get the narrative across with her own signature finesse.
An interesting segue occurred however as a group of models came strutting down the catwalk in a sort of sexy corporate look complete with lingerie/blazer/optical eyewear combination, reminiscent of Dolce & Gabbana 's 20th anniversary show last year.
This was the introduction to a line entitled Trelise Cooper boardroom, touted as an affordable collection for the executive woman, and will be another addition to the Trelise Cooper fold.
OUR ONE-WORD REVIEW: Sassy.
Trelise Cooper
For the second part of the show, Cooper's eponymous line highlighted a dark glamour that took note of lady-like dressing and a subversive approach to prim and proper.
Matching twin sets were offset by a dark take on the makeup brief, with models' eyes taped at the temples with invisible tape - a look that only highlighted the somewhat mad nature of the Trelise Cooper woman next season.
Silk dresses and skirts with magical birds such as swans and peacocks made an impact; as well as dark hothouse botanical prints on dresses - a continuation of some of her successful bright botanical prints for summer (in store October).
Cooper closed off her show with draped sequin cocktail dresses that are sure to go down well with her loyal customers and celebrity clientele, who tonight all made the most of being seen at one of the week's most anticipated shows, despite the fact it was an hour late.
OUR ONE-WORD REVIEW: Hitchcock.